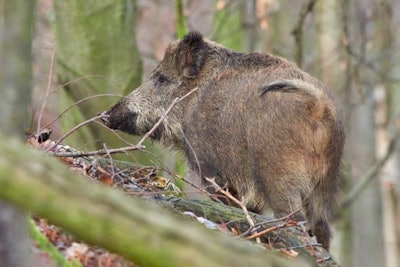 In the northeast of Germany, earlier preparations and cooperation from the pig farming sector are attributed with the effective control of African swine fever (ASF) in Mecklenburg-West Pomerania.
In Germany, the number of wild boar infected with the African swine fever (ASF) virus is currently approaching 3,500. First positive cases were detected in the eastern state of Brandenburg in September 2020. Since then, further cases have been found in Saxony — the border state to the south — and Mecklenburg-West Pomerania to the north. In addition, four small herds of domestic pigs have been affected by the disease.
For Mecklenburg-West Pomerania, the arrival of ASF coincided with a change in state government in mid-November 2021. First cases were detected in a commercial herd of just over 4,000 finishing pigs in the Rostock district. Up to February 10, 11 wild boar have tested positive for the virus. All were found in neighboring Ludwigslust-Parchim.
According to the responsible state minister, Dr. Till Backhaus, the first 100 days of his administration were largely taken up with ASF and its control.
In previous years, preparations had been put in place for such an emergency, according to the Mecklenburg-West Pomerania government.
Just two months after ASF was detected at the Rostock district farm, restrictions could be lifted in the area, said Backhaus. Furthermore, he said, the disease situation is under control around Redlin in Ludwigslust-Parchim. So far, 11 wild boar in the state have tested positive for the virus (as of February 10).
Backhaus attributed to the effective disease control in the state to actions in particular to early involvement of farms, pig breeding associations and slaughterhouses. To minimize economic damage to the state's pork sector, a program was launched to buy up pigs from small farms in ASF-affected areas. This was achieved within a few weeks, according to the minister, thus reducing the risk of disease spread while providing state support for farmers.
German state adjusts fencing system
In order to control the movement of wild boar, and hence the spread of ASF, double-fencing systems were constructed along Germany's border with Poland.
Although generally effective at containing wild boar, the fences prompted controversy this year, when flooding of the River Oder led to many wildlife casualties in a national park in the state of Brandenburg. Despite immediate measures to provide gaps and ramps in the barriers, wildlife — particularly deer — were trapped as they tried to escape the rising floodwater.
According to the Brandenburg government department responsible, solid fencing is the most important measure to prevent the spread of ASF in wild boar. However, authorities in the Uckermark district have found what is hoped to be an acceptable compromise. The western fence along the Polish border will be moved to the west, giving wildlife more space to retreat from future flooding. Work was scheduled to begin immediately.
ASF situation among Europe's wild boar
So far this year, 1,839 outbreaks among wild boar have occurred in Europe. This is according to the Animal Disease Information Notification System operated by the European Commission (EC) as of February 20. This is 507 more cases than in the previous edition one week earlier.
Cases have now been registered through this system by 13 countries. First cases of the year were reported by Moldova this month.
Recording the most outbreaks has been Poland (592), followed by Germany (339), Bulgaria (221), Romania (196) and Slovakia (134). Also registering new cases through this system over the previous seven days were Estonia, Hungary, Italy, Latvia and Serbia.
In Germany, the total number of ASF cases in wild boar has risen to 3,463. This figure covers all cases in the wild population since the first case in September 2020.
This total comprises 2,447 in Brandenburg (as of February 21), 1,005 in neighboring Saxony (as of February 22), and 11 in Mecklenburg-West Pomerania (as of February 22).
Poland's total outbreaks in wild boar so far this year stands at 495, according to the nation's chief veterinary office. Latest reports cover 120 outbreaks confirmed in the country between January 10 and February 13. These involved a total of 155 animals.
Over the past week, Italy has officially registered a further four cases of ASF in wild boar. According to the latest report to the World Organisation for Animal Health (OIE), these animals were found at different locations in areas where earlier cases were detected in the regions of Piedmont (Piemonte) and Liguria. They bring to 39 the number of ASF-infected wild boar in the northwest of Italy since the first week of January.
Ukraine reports first ASF cases in swine this year
As of February 20, eight European nations had officially confirmed one or more ASF outbreaks among domestic swine so far this year. According to the EC, Ukraine's first outbreak of 2022 was confirmed on February 9.
Of the total of 96 outbreaks for the year so far, Romania accounts for 78. Serbia's total increased by four over the previous week to stand at 11.
Also reporting cases among domestic pigs to the EC this year have been Bulgaria, the Republic of North Macedonia, Italy, Moldova and Slovakia.
Over the past week, Romania's animal health agency has registered with the OIE a further 15 outbreaks of ASF in domestic pigs. Of these, 12 were confirmed in small backyard herds, while the other three were on farms. Pigs tested positive during the first half of February at one commercial unit with more than 9,544 animals in the southeast of the country. Other cases were in central Romania — at a farm with around 19,800 animals, and among 334 pigs at a registered holding.
The EC's system does not monitor the disease situation in Russia.
In Russia's Volga federal district, ASF has been detected again in the Saratov region. This month, 19 cases were reported in a backyard herd of 52 pigs. Four of the animals died. According to the OIE notification, ASF virus was last detected in this region exactly one month earlier.
Also in the Volga district is the Penza region. Here, according to the latest update to the OIE, 13 more pigs were culled in two infected backyard herds where ASF infections were previously confirmed.
View our continuing coverage of the global African swine fever situation.