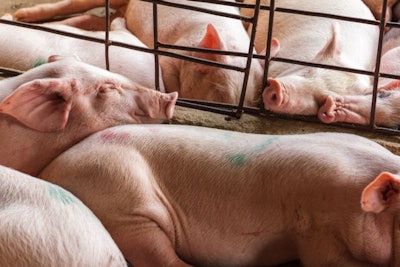 Samples from affected pigs found the presence of Salmonella, Pasteurella, circovirus and Mycoplasma
Mexican authorities have confirmed that the death of pigs at a slaughterhouse in December was due to Salmonella and Pasteurellosis, and not African swine fever (ASF) or classical swine fever (CSF).
According to reports, on December 25, Mexico's National Service for Agrifood Health, Safety and Quality received notification of pig mortality at a slaughterhouse in Tepic, Nayarit. Personnel from the General Directorate of Animal Health went to the site to inspect the animals and collect samples which were transferred to the national animal health laboratories.
The agriculture department said 220 pigs were culled as a precaution and the limed and buried in a pit.
The samples found the presence of Salmonella, Pasteurella multocida, circovirus type II and Mycoplasma hyopneumoniae.
Pasteurella multocida and Mycoplasma hyopneumoniae are common causes of respiratory disease in pigs, and circovirus type II is a common virus found in pigs around the world.
The agriculture department said in a report that "the effective and timely attention to this health problem was possible thanks to the immediate notification of local authorities, for which it invited producers, marketers and the general public to report any suspicion of diseases of pigs."
While Mexico remains from from ASF, the disease was detected in in the Dominican Republic on July 28, marking the first time ASF has been detected in the Western hemisphere in 40 years. ASF was then confirmed in Haiti on September 21.
In August, Mexico's agriculture ministry said it had banned pork and pig-derived products from the Dominican Republic and other ASF-positive countries. Officials said they would X-ray all baggage coming into the country from the Dominican Republic to detect "products of risk."
ASF only affects pigs and does not affect humans, and it has a very high mortality rate. CSF also affects only pigs and causes varying levels of morbidity and mortality depending on the strain. Symptoms of the two diseases are similar.