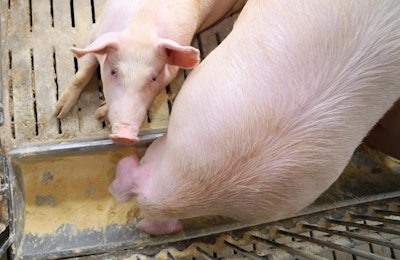 Since the start of the year, South Africa has officially registered 4 new outbreaks of African swine fever in domestic pigs, while 25 outbreaks have been reported retrospectively in the Dominican Republic, and 4 in Haiti.
In its latest assessment of the global African swine fever (ASF) situation, dated January 6, the World Organisation for Animal Health (OIE) reports it has been notified of 149 reported outbreaks among domestic pigs in Africa since January 2020.
On the continent, directly involved were 397 domestic pigs, with 500 cases of the disease confirmed. These figures cover the animals at infected premises that died or were culled. However, it does not include any culled in areas surrounding outbreaks to prevent further spread of the infection.
4 new outbreaks in South Africa
So far this month, the South African veterinary authority has registered with the OIE four new ASF outbreaks in domestic pigs.
Involving a total of 428 pigs, all outbreaks began over the period December 20-30 last year.
Among those affected was a backyard herd of 15 pigs in the Cape Town area of Western Cape. Other outbreaks were in Gauteng. These involved two premises described as "farms," with 103 and 331 pigs, as well as a backyard herd of 33 animals.
During 2021, 133 ASF outbreaks occurred in South Africa. This is according to the EMPRES system of the United Nations' Food and Agriculture Organization (FAO).
ASF situation in the Caribbean region
During 2021, ASF returned after a decades-long absence to two Caribbean states — Dominican Republic and Haiti.
There were 210 outbreaks involving a total of almost 15,000 domestic pigs in the region in 2020 and 2021. This is according to the OIE's latest global ASF overview. Around 8,600 cases in swine have been confirmed in Caribbean states.
The latest official report to the OIE from the veterinary authority of the Dominican Republic outlines 25 new outbreaks. While most of these occurred during the month of November, the report includes some cases dating back to July 31, and one outbreak in early December. Located in six provinces, all of these latest outbreaks were at premises described as backyards, and in herds up to 300 pigs.
Since the country's first recorded ASF cases in 40 years in April 2021, 199 outbreaks have been confirmed with the OIE. Directly involving a total of just over 15,500 pigs, one or more outbreaks have occurred in 26 of the nation's 32 provinces.
At the end of December, Dominican Today reported an announcement from the USDA's Animal and Plant Health Inspection Service that the Dominican Republic had been added to the list of countries considered to be affected by ASF.
From the neighboring state of Haiti, no new outbreaks have been reported to the OIE since mid-October.
At the end of August last year, the Republic confirmed its first ASF cases since 1984. Since then, seven outbreaks involving a total of 74 pigs have been registered with the OIE. According to the FAO EMPRES system, Haiti's total ASF outbreaks during 2021 stands at 11.
View our continuing coverage of the global African swine fever situation.