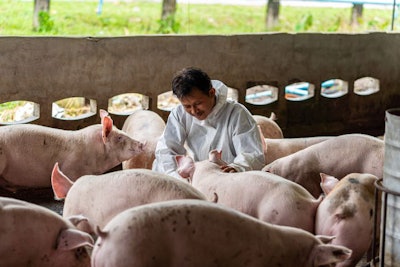 After a 2-year battle to control the spread of African swine fever (ASF), The Philippines is reporting ongoing cases in just 5 of its provinces.
Cases of African swine fever (ASF) in the Philippines have declined significantly, according to a government minister.
Starting in the country in July 2019, cases peaked last year as the infection spread to 12 regions, according to China-based news agency, Xinhua. In a statement, the agriculture secretary said losses of pigs were around 3 million, and the costs at more than PHP100 billion (US$1.98 billion). Furthermore, shortage of pork on the Philippines' market led to rising prices and increased imports.
In May, President Rodrigo Duterte declared a yearlong national "state of calamity" owing to the ASF situation.
By the end of October, Inquirer reported, active ASF cases are ongoing in just five of the country's 50 provinces. These are located in three regions.
Meanwhile, in the Philippines, communities continue to carry out ASF control measures.
In one province in the Western Visayas region alone, more than 4 metric tons of pork products have been seized by the authorities so far this year, reported Visayan Daily Star in October.
The province of Negros Occidental prohibits the entry of live pigs and pork products from areas where ASF continues to circulate, such as Luzon, Mindanao and Eastern Samar. Valued at around PHP1.2 million, the illegal goods were intercepted at ports, airports and checkpoints around the province.
In the same region, residents of Antique province have been warned by the authorities not to purchase pork from ASF-infected areas, according to the Philippine News Agency.
Meanwhile, the same source reports pig owners in Northern Mindanao are being urged to take out insurance for their animals with the Philippines Crop Insurance Corporation. This promises compensation of at least PHP10,000 — and up to PHP34,000 — per animal if they have to be culled in the event of an ASF outbreak. This compares with the government scheme, where compensation is PHP5,000 for each pig culled.
3 districts in Malaysia register ASF cases
Papar has become the latest district to be included in the control zone in Malaysia's Sabah state.
In mid-September, 91 pigs died of the disease in two villages in this district, reported The Borneo Post. So far, the infection has hit backyard herds only, and not the four commercial farms with a total of more than 9,000 pigs in this district.
The latest cases in Papar came after similar discoveries in Kota Kinabalu and Tenom since the end of September.
At this stage, the agriculture ministry is not carrying out a cull of all pigs in these districts. However, it has imposed controls on movements of pigs and pork in the area, as well as raising awareness among local residents, and increasing monitoring at farms and slaughterhouses.
In the state of Sabah, 19 more districts have been following these measures since earlier this year, according to this source. Seven of the districts have reported no new ASF cases for at least 60 days. These include five in Sandakan division (in the center and northeast of the state), and two in Kudat, which is in the northwest.
Papar and Kota Kinabalu are in the West Coast division, while Tenom is located in the southwestern Interior Division.
More than 450 pigs dead in Indonesia's West Kalimantan
Around 460 pigs have recently died across three districts of West Kalimantan province, according to the United Nations' Food and Agriculture Organization (FAO). Samples from two of these districts tested positive for the ASF virus.
First cases of ASF in Indonesia were officially confirmed in 2019. Up to February of this year, the same source reported ASF cases in 10 of the country's 34 provinces. As well as outbreaks among wild boar, local media have previously reported ASF-positive domestic pigs in East Kalimantan and Central Kalimantan.
All three of these provinces are in Kalimantan, which is the Indonesian territory of the island of Borneo.
Papua New Guinea steps up ASF controls
A new checkpoint has been set up on the bridge at Kenangi, according to Post-Courier.
The purpose of the control point is to check all vehicles from areas where ASF is known to be present, and to ensure no live pigs or pork products pass this key point. Any meat discovered will be destroyed, and any pigs will be returned to the owners, who will be fined.
Checks will focus on vehicles from Hela, South Highlands, Enga, Western Highlands, Jiwaka and Chimbu. All these provinces are located in the interior of Papua New Guinea.
ASF situation in Russia's Ural and Far Eastern federal districts
Located in the Ural federal district, the region of Sverdlovsk has registered three further ASF outbreaks in backyard herds.
According to official reports received recently by the World Organisation for Animal Health (OIE), these affected herds of four, 241, and 261 pigs during the second week of October.
At the end of September, this region registered its first ever cases of ASF in another non-commercial herd.
In the country's Far Eastern federal district, the authorities have declared the ASF situation "resolved" in Primorsky krai. This came after reporting of 12 outbreaks in wild boar and domestic pigs since April. No new cases have been registered since early September.
In the same district, additional mortalities and culls of domestic pigs have been notified to the OIE at previous outbreak locations in the regions of Amur and Khabarovsk. Among wild boar, seven and two more wild boar have tested positive for the ASF virus in the same two regions, respectively.
More ASF-infected wild boar in South Korea
Total number of wild boar in South Korea testing positive for the ASF virus has risen by 29 over the past month to 1,663.
This is the figure as of October 28, as reported by the FAO. Since the first positive case in September of 2019, infected wild boar have been found in the northern provinces of Gangwon and Gyeonggi.
There have also been 21 confirmed outbreaks in South Korea's domestic pigs over the past two years, according to the FAO. This total comprises nine in Gyeonggi, seven in Gangwon, and two in the Incheon city region.
According to official notifications to the OIE, no further cases of ASF have been detected among Hong Kong's wild boar population. After reports of multiple mortalities in a natural park, just one animal has tested positive for the ASF virus since the beginning of September.
So far in 2021, more than 100,000 pigs have been destroyed in Vietnam in order to control ASF, according to the FAO. This is more than twice as many as in 2020.
Last month, the FAO announced it was launching an updated monitoring system that will help in the worldwide control of animal diseases, such as ASF.
View our continuing coverage of the global African swine fever situation.