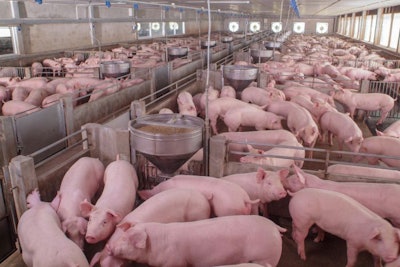 African swine fever (ASF) virus has been detected at a third premises operated by Russia's largest pork company.
ASF has been detected at one of its pig-breeding facilities in Belgorod oblast, reports Russian agri-food company, Miratorg. No details are given of the number of animals involved. However, the company says its staff are following measures to contain the outbreak, and normal operations continue at its other facilities.
On September 21, the first ASF outbreak in the Belgorod region — located in the Central federal district — was registered at Miratorg farm with around 29,000 pigs. Three further outbreaks in the area have been officially notified to the World Organisation for Animal Health (OIE) since early October. These included another of the company's units, which had around 14,000 animals.
At each of these first four outbreaks, mortality was reported to be low, and culling of the remaining animals was not mentioned.
With annual production of three million pigs, Miratorg is the largest pork producer in the country, according to the company.
Elsewhere in Russia, ASF was detected at the only pig at a premises in the Perm district. This is according to the only update received by the OIE from Russia's veterinary authority over the past week.
Part of the Volga federal district, Perm recorded its first ever case of ASF in mid-September. All three outbreaks in this district so far have been in small non-commercial herds of domestic pigs.
Romania records 25 new outbreaks in small pig herds
Over the past week, OIE has been notified of 25 further outbreaks of ASF among the nation's pigs.
According to the official reports from the animal health agency, each of these affected herds comprised up to 35 animals. Outbreaks occurred in the south, central and eastern counties in the period October 10-20. One of the affected premises is described as a "registered holding," while all the others were backyard herds.
5 more outbreaks in Poland's domestic pigs
Since October 18, the Polish chief veterinary office has confirmed five new ASF outbreaks in the country's pig herds.
Affecting a total of 400 animals, latest to be affected were herds of 12-269 pigs. Among these latest outbreaks are three in the province of Holy Cross (Swietokrzyskie). They represent the first cases in this southern province this year.
Since the nation's first cases in 2021 were reported on farms and in backyard herds in March, the number of outbreaks has reached 117. Total pigs directly affected has just passed 40,000.
ASF situation in domestic pigs in Europe
So far this year, 1,639 outbreaks have been confirmed among domestic pigs, according to the latest update of the Animal Disease Information Notification System from the European Commission (EC; as of October 23).
Of the 10 European states registering cases through this system in 2021, two have reported new outbreaks so far this month. These include the worst-affected country, Romania (now with 1,462 outbreaks so far in 2021), and Poland (115).
In the month of September, new cases of the disease were detected in Bulgaria, Slovakia and Ukraine.
During the whole of 2020, 1,240 ASF outbreaks in 10 countries were registered with the EC System. It does not monitor the disease situation in Russia.
Germany: Wild boar outbreak total approaches 2,500
The number of wild boar that have tested positive for the ASF virus in Germany stands at 2,495. This total comprises 1,918 cases in the eastern state of Brandenburg (as of October 26), and 577 in neighboring Saxony (as of October 21). Both of these states border Poland, from where the infections in Germany are thought to have originated.
Virus-positive wild animals have been found in seven districts in Brandenburg, and two in Saxony.
In July, the ASF virus was detected in domestic pigs at three locations in Brandenburg.
Situation in wild boar elsewhere in Europe
Through its notification system, EC has been informed of a total of 9,882 outbreaks of ASF among wild boar in 12 European states (to October 23).
Registering the highest numbers of ongoing outbreaks were Hungary (2,518 so far this year), Poland (2,387), Germany (1,895) and Slovakia (1,483). Also reporting new cases so far this month were Bulgaria, Estonia, Latvia, Lithuania and Romania.
For comparison, a total of just over 11,000 outbreaks were confirmed with the EC by 14 European states during 2020.
View our continuing coverage of the global African swine fever situation.