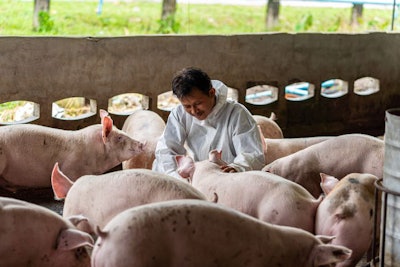 One of the outbreaks in Bulgaria, as well as one and three of the latest outbreaks in Poland and Romania, respectively, were in substantial commercial herds.
Toward the end of July, authorities in Bulgaria confirmed the first outbreak of African swine fever (ASF) in domestic pigs since October 2020. Affected at the time was a premises in the eastern province of Varna in a herd of around 120 animals.
Since mid-August, a further three outbreaks of the disease have been confirmed by the national food safety agency. First of these outbreaks was at a commercial farm with 13,045 pigs in the central-southern province of Pazardzhik. The following day, five pigs at an unregistered private farm in neighboring Plovdiv tested positive for the ASF virus. The disease was confirmed at a family farm with 40 pigs just one day later. Also located in Pazardzhik, that premises was within 3 kilometers of the initial infected farm.
Poland registers 10 new outbreaks in pig herds
Over the past week, 10 new outbreaks of ASF have been reported by the Polish chief veterinary office. Among the farms affected were one with more than 1,800 animals in the eastern province of Lublin, and another with 448 pigs in neighboring Subcarpathia. Each with 7-120 pigs, the other eight affected premises were in these and three other provinces. Four of the latest outbreaks are described as "primary outbreaks," while the others were presumably infected from previous outbreaks.
These bring the country's total confirmed outbreaks so far this year to 58, directly impacting almost 34,000 pigs.
Further outbreaks on farms, backyards in Romania, western Russia
Over the past week, Romania's veterinary authority has officially registered a further 96 outbreaks of ASF. According to reports to the World Organisation for Animal Health (OIE), these occurred across multiple counties.
Since ASF first entered the country just over three years ago, the great majority of affected herds have been small backyard herds. Many involved no more than a handful of pigs. However, the latest outbreaks affected included two large units in the south of the country — each with between 27,000 and 30,000 animals — and another in the southeast with around 8,300 pigs. Culling was reported to be underway at these premises. Among Romania's other recent outbreaks, affected herds numbered fewer than 100 animals.
In Russia's Central federal district, the number of ASF outbreaks since May in Yaroslavl oblast has risen to 25. These have involved 776 pigs, including 165 mortalities, and a further 201 have been culled.
Most recently, ASF was confirmed in two backyard herds in the same district comprising a total of 26 animals in the same district.
Since the start of August, ASF outbreaks have also been confirmed in one or more domestic pig herds in Latvia, Moldova and Ukraine, as well as a number of other Russian oblasts.
ASF situation among European wild boar
Latest update of the Animal Disease Information Notification System from the European Commission (EC) covers 103 confirmed ASF outbreaks. These were in the wild populations of eight countries for the period August 12-18.
Registering the most cases over this period was Germany (52), followed by Poland (19), and Slovakia (15). There were also new outbreaks in Bulgaria, Hungary, Latvia, Lithuania and Romania.
Since ASF was first detected in Germany almost one year ago, the number of confirmed outbreaks has reached 1,990, based on data from the authorities in the two affected states in the east of the country. This total comprises 1,558 outbreaks in Brandenburg (as of August 23), and 432 in neighboring Saxony (as of August 20).
The virus has been detected in wild boar in eight districts in these two states — seven in Brandenburg (including most recently in Uckermark), and one in Saxony.
Among Germany's domestic pig population, there have been three confirmed outbreaks. All were in Brandenburg during July.
View our continuing coverage of the global African swine fever situation.