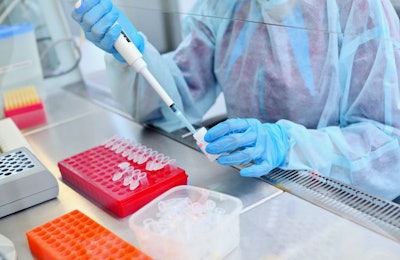 Chinese scientists have successfully bred native pigs through research that could help preserve breeds threatened by diseases such as African swine fever (ASF).
New African swine fever (ASF) outbreaks have been reported in domestic pigs in China, Papua New Guinea, the Philippines, and Vietnam, as well as among wild boar in Indonesia and Russia's Far East. Further steps are being taken in the Philippines to protect and support the country's pig farmers, while keeping the population supplied with pork.
Chinese researchers have successfully produced five pigs of a threatened native breed using a cloning technique. The method will help to preserve potentially valuable genetic resources in case of any disease threat to breeding farms, such as ASF.
According to Xinhua news agency, scientists in Taicang City in Jiangsu province reached this achievement with a somatic cell cloning experiment. Previously, they had collected ear tissue samples from six native breeds of pig, and cryopreserved more than 1,200 tubes of somatic cells. Their latest work has resulted in five healthy native breed piglets with black hair and white feet.
Three new outbreaks of ASF have been confirmed in China in the past three weeks.
In the third week of March, presence of the ASF virus was confirmed at a farm in the Xinjiang Uyghur autonomous region of western China. Affected was a herd of 466 pigs in Yining county, according to the official report to the World Organisation for Animal Health (OIE).
Within days, the authorities registered the first ASF outbreak in Hunan province for two years. This occurred in a group of 61 pigs at a temporary animal quarantine center in Ansha in the Changsha city region. Three of the animals died and the rest were destroyed. The infection is blamed on illegal movements and/or the introduction of new animals.
This month, China's agriculture ministry confirmed another ASF outbreak in the Xinjiang Uyghur autonomous region. There were 33 cases and six deaths among 599 pigs at a breeding farm. The rest of the herd will be culled.
In China, the illegal use of vaccines to control ASF is causing pig mortalities and reducing hog output, according to a senior executive of the WH Group.
New outbreaks in the Philippines
In the Cordillera Administrative Region in the north of the island of Luzon, new ASF cases have been reported in recent days, according to the Philippine News Agency (PNA). Details were not given, but the outbreaks were reported in the provinces of Abra and Apayao. This leaves neighboring Ilocos Norte as the only province on Luzon free of ASF. To help keep the infection out, border officials have been put on high alert, and farms with more than 20 pigs are being tested.
Meanwhile, border checks are being suspended temporarily in the Western Visayas province of Antique. PNA reports that this is due to an increase in coronavirus (COVID-19) cases.
Last week, the Department of Agriculture in the same region called on all communities to raise their efforts to prevent the entry of the ASF virus. Among the new measures is a search of volunteers in each area to support provincial veterinarians working on the ASF prevention program, BABay ASF. The new recruits will assist with monitoring, surveillance and reporting of ASF. The disease is described as an "enormous" threat to the region's pig population.
End to price controls, rise in compensation for the Philippines
After a previous escalation in pig meat prices due to ASF-related shortages, measures were taken to keep pork and poultry affordable for people in the Philippines.
Later this week, an order fixing a ceiling price for pork was due to end. This has successfully held down the inflation rate for March, according to Agriculture Secretary William Dar. PNA reports he has announced in its place a "suggested retail price." For imported pork, this is set at PHP270 (US$5.54) per kilo for pork shoulder, and PHP350 for belly.
In February and March, the Philippines imported 38,000 metric tons (mt) of pork, according to Dar. This comprised 18,200 mt under the minimum access volume, and 19,700 mt outside this program.
Compensation for pig owners whose animals are culled as a result of ASF are set to receive an increase in compensation.
According to Business World, the amount will double to PHP10,000 per fattening pig, PHP14,500 for each breeder, and PHP34,000 for parent stock. The levels have been raised to encourage reporting of ASF cases.
Offered by the Philippine Crop Insurance Corp., the scheme is free of charge to backyard owners who register their animals. For commercial producers, the premium rates have been reduced to 1.75% for fattening pigs, and 3.5% for breeding animals. All registered herds will be included in disease surveillance, and biosecurity measures are required.
In certain areas of the Philippines, the Department of Agriculture is set to roll out a pig re-population program. At a total cost of PHP600 million, the scheme will apply in the ASF buffer and surveillance zones, as well as those that are free of ASF.
Vietnam registers 11 new ASF outbreaks
The latest report from the national animal health agency puts Vietnam's direct losses due to ASF since February 2019 at almost 5.975 million pigs.
The latest update to the OIE outlines 11 new outbreaks involving more than 2,904 animals. Dates for these cases are not given, but each of the new outbreaks is identified as occurring in a different province. These are widely distributed across the country, covering the Northeastern, Northwestern, Red River Delta, Central Highlands, South Central Coast, and Mekong Delta regions.
OIE's most recently updated overview of the ASF situation in Asia (as of February 18) puts the number of outbreaks in Vietnam at almost 9,000. Of these, 1,336 were regarded as ongoing, with all 63 of the country's regions affected.
More ASF cases among wild boar in Russia's Far East
In the Far Eastern federal district of Russia, 10 more wild boar have tested positive for the ASF virus.
According to the official report to the OIE, the animals were identified during the last week of March at five locations — four in Primorsky krai and one in Khabarovsk oblast. These bring to 289 the number of infected wild animals in this district since July 2019.
Suspicious mortality in pigs in northeastern India
Since March 21, 87 pigs have died suddenly in a village in Mizoram state, reports Hindustan Times.
Cause of death of the animals is under investigation. The elevated mortality has occurred in the village of Lungsen, which is near to the border with Bangladesh.
First ASF-infected pig carcass washes up at New Taipei
For the first time, a pig carcass infected with the ASF virus has been found on the shore in the city region of New Taipei, reports Focus Taiwan.
With all 11 pig farms within 10 kilometers testing negative for the ASF virus, source of the carcass is unknown. Since 2018, this is the 15th infected carcass to have been washed up on Taiwanese territory. Of the earlier cases, 12 were found in Kinmen county, and two on the Matsu Islands.
Cambodia intercepts smuggled pigs
This month, approximately 100 pigs from Thailand were smuggled into Cambodia, according to The Star of Malaysia. The report alleges that the animals originated in Thailand and were transported through Laos in order to disguise their origin. Thailand is facing an ASF outbreak, according to this source.
Official agencies OIE and the United Nations' Food and Agriculture Organization (FAO) do not list Thailand as a country affected by recent cases of ASF. However, both bodies have registered outbreaks in multiple regions of Cambodia and Laos.
Latest ASF situation in Indonesia, Malaysia, Papua New Guinea
Local media in Malaysia have reported that a total of 791 domestic pigs and 139 wild boar have died as a result of ASF, according to FAO. These cases have occurred in six districts in the state of Sabah.
In Indonesia, cases of ASF have been confirmed on the islands of Java and Bali as well as in the Eastern Nusa Tenagga island region. The same source reports those of local media, which describe multiple cases of ASF in the wild boar population in South Sumatra.
Recently, a single outbreak occurred in Simbu province in Papua New Guinea. Although the infection is reported as contained, ASF has now been detected in six provinces of the country since March 2020, reports FAO.
View our continuing coverage of the global African swine fever situation.