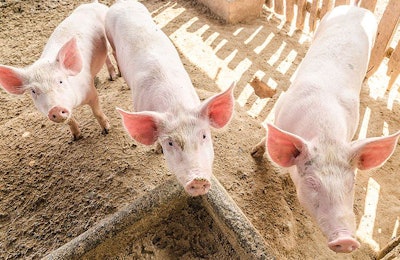 China's herd restocking hits some bumps, Vietnam begins recovery, Germany continues to struggle with disease
African swine fever (ASF) continues to be a major driver of the world's pork markets, causing uncertainty, especially in China and Germany, according to a new Rabobank report.
China
China's restocking efforts have had some challenges, with outbreaks of the disease continuing throughout the winter, Rabobank said in its global ASF update for March. Adding to those challenges were illegal ASF vaccines, new variants of the ASF virus and other pig diseases, including porcine reproductive and respiratory syndrome (PRRS).
"As the ASF virus mutates and becomes more difficult to control, biosecurity will remain the most effective way to defend the herd," the report said.
While restocking has slowed, Rabobank said it believes China's sow herd is 10% to 15% larger than it was one year ago. The country's full recovery from ASF is not expected before 2023.
"The barrier to enter hog farming is now even higher, due to the technology and capital involved, leading to further consolidation in the near future," Rabobank said.
Pork production in China will to grow 8% to 10% year over year in 2021, Rabobank said, with fluctuations in production and prices expected throughout the year.
"Our view is that average hog prices in 2021 will be lower than in 2020 and subject to strong ups and downs during the year," the report said.
With a growing pig herd, China's feed consumption will also grow. Hog feed consumption is expected to increase 11% in 2021 over the previous year. Broiler feed consumption will also expand, but at a slower pace, while layer feed use will see a slight drop. Aquafeed is expected to see "a clear rebound." Overall Chinese feed consumption is expected to increase 7% to 8% in 2021.
Soybean meal consumption in China will increase 6% year over year, and China is expected to import large amounts of feed grains, mostly from the U.S., in 2021.
Wheat use in feed is expected to see a "significant boost" as China's state reserve offers old/stale wheat and paddy rice to feed mills at lower prices.
"In addition, mills are increasingly using wheat to replace corn in the feed formula. As wheat has a higher protein level, the use of soymeal will also be adjusted accordingly," the report said.
China's pork imports will decline in 2021 by 10% to 30% from the record high of 2020; however, the U.S. is expected "to further grow its importance in China's pork imports," the report said. In 2020, the EU provided 58% of China's imports, the U.S. 17%, Canada 9% and Brazil 9%.
For 2021, "the level of China's import demand in 2021 is uncertain, and the relative shares between the major exporters are also uncertain," Rabobank said.
Vietnam
While Vietnam has also seen ASF outbreaks over the winter, they have not been as bad as previous outbreaks. Pork production is expected to be up 8% to 12% year over year.
The wild card for Vietnam is the government's announcement of an ASF vaccine that it said will be commercially produced and marketed this year.
Vietnam is expected to continue to import breeding pigs throughout 2021, and pork imports will remain above 2019 levels.
Like in China, Vietnam's hog feed consumption will grow along with its pig herd; an increase of 8.1% is expected. Total consumption of broiler, layer and aquafeed in Vietnam is expected to increase 3% in 2021, with total feed consumption expected to grow 5.8%.
Vietnam's corn and soybean meal demand for animal feed is expected to increase by 7.5% and 6%, respectively, from the previous year. Its imports of corn and soybean meal are expected to increase 6.7% and 1% year over year.
Germany
ASF continues to spread in Germany, and the country has yet to establish effective control measures.
Germany's pork production is expected to decline by 4% in 2021. Additionally, "Germany's sow herd decreased by 5.4% year over year in 2020, the largest decline in the last 10 years, as increasing environmental and animal welfare regulations continue to weigh on the industry," Rabobank said.
View our continuing coverage of the African swine fever outbreak.