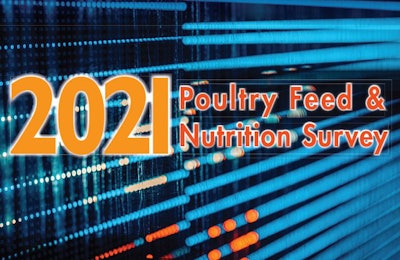 Poultry, feed industry survey respondents are cautiously optimistic about business in 2021, but also preparing to bear challenges ahead
WATT Global Media's annual Poultry Feed & Nutrition Survey offers a firsthand look at the macro trends impacting the poultry industry worldwide, providing a glimpse into the ways poultry producers, nutritionists and feed manufacturers are adapting to these changes and challenges.
The 2021 edition of the survey includes input from 560 respondents from around the world. More than half of survey participants are nutritionists, consultants and veterinarians; 16% work in live production management or own a poultry farm.
Dominating the discussion this year are the lingering effects of the COVID-19 pandemic and grain price volatility. However, evergreen issues, such as the challenges of antibiotic-free (ABF) poultry production and feed additives alternatives for antibiotic growth promoters (AGPs), remain hot topics.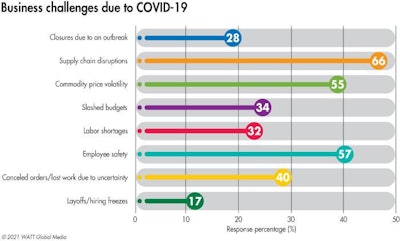 Aside from the employee safety challenges (57%) posed by the COVID-19 pandemic, supply chain disruptions (66%), commodity price volatility (55%) and lost business (40%) further taxed poultry and feed companies in 2020. (WATT Global Media)
The impact of COVID and ASF
When asked about the main difficulties their company faced in 2020 due to the COVID-19 pandemic, survey respondents (66%) cited that supply chain disruptions posed the greatest challenge to their business. In addition, the struggle to keep employees safe by securing personal protective equipment (PPE) and establishing social distancing procedures ranked as the second biggest obstacle (57%).
Commodity price volatility (55%), lost work or canceled orders due to market uncertainty (40%) and slashed budgets (34%) rounded out the respondent's top 5 COVID-related stressors.
In 2021, 38% of survey participants believe their feed production will increase, and 40% feel it will stay the same as in 2020.
Twenty-six percent of respondents believe the continued fallout from the African swine fever (ASF) virus, which has plagued Chinese and Southeast Asian pig herds since mid-2018, will be the reason they ramp up their poultry production in 2021; 13% feel it will result in increased feed additive sales this year. Meanwhile, 12% believe ASF will be to blame for their decreased 2021 feed production.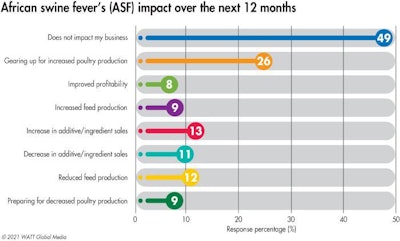 Most survey respondents report being unaffected by the African swine fever (ASF) outbreak, but 26% think it will be the reason they ramp up poultry production in 2021. (WATT Global Media)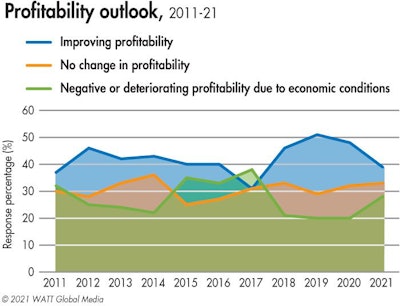 Less than 40% of survey respondents are optimistic about their company's 2021 profitability, a 10% dip from 2019, the exact amount that shifted to reflect a negative revenue outlook. (WATT Global Media)
2021 profitability outlook
Coming off 2020, survey respondents have a much less optimistic outlook for the year ahead than in previous editions of the survey, with less than 40% believing profitability will improve, 28% bracing for deteriorated profitability, and 33% feeling profits will remain flat. This is compared with 2019, for example, when more than 50% of respondents felt profitability would improve.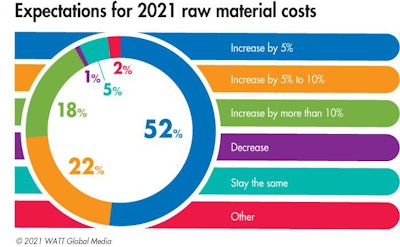 Thirty-eight percent of respondents believe raw material costs will increase by 5% to 10% in 2021 and 32% anticipate increases of 10% or more. Virtually none of respondents (>2%) expect grain prices to decrease. (WATT Global Media)
When asked to weigh in on the primary challenges their business faces in 2021, 85% cited the cost of grain and its quality (68%) as two of their top concerns. In fact, 38% of survey respondents anticipate their grain costs increasing by between 1% and 5% in 2021; 32% fear they will increase by more than 10% this year. Only 8% are optimistic they will stay the same as in 2020.
Sixty-three percent of respondents believe rising feed additive and micro-ingredient prices will become their No. 3 biggest challenge, which likely relates to supply chain risk (60%), one of their top No. 4 greatest concerns. Tied for fourth place, poultry and feed producers foresee tightened or deteriorating margins (60%) on the horizon this year.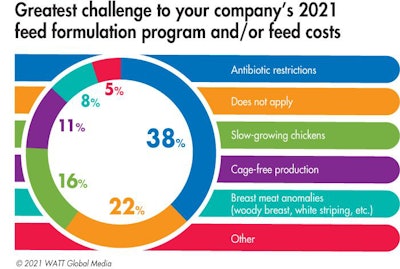 Antibiotic reduction and elimination efforts continue to be the No. 1 production trend to challenge feeding programs. (WATT Global Media)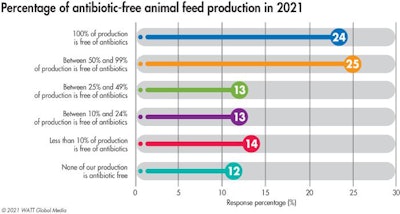 Twenty-four percent of respondents report their operation(s) being 100% antibiotic free; 25% say between 50% and 99% of their poultry production is free of antibiotics. (WATT Global Media)
Antibiotic reduction, elimination challenges
Asked to identify which poultry production trends have the most significant impact on their feed costs and formulation programs, 38% of respondents cited antibiotic restrictions as their No. 1 production challenge in 2021 and 16% point to slow-growing chicken production.
Eighty-eight percent of 2021 survey participants report having some degree of ABF production in their poultry operations, with 24% stating that 100% of their production is ABF.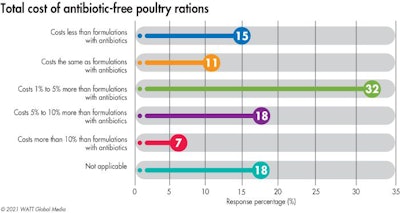 Most respondents (32%) report moderate increases to feed costs — 1% to 5% — when formulating antibiotic-free rations; 18% cite cost increases between 5% and 10%. (WATT Global Media)
According to 32% of respondents, ABF poultry rations cost between 1% to 5% more than traditional formulations; 18% say their costs for ABF feeds have increased by 5% to 10%. In contrast, 15% note that their company's formulations actually cost less without them; and 11% say it stayed the same.
In their opinion, the No. 1 challenge in making the transition to ABF poultry production can be attributed to the inconsistent results they have experienced with feed additive alternatives (40%). In addition, the cost of feed additives (35%), the losses related to the elimination of AGPs and the difficulty implementing changes on the farm level (25%) further complicate the effort.
Since eliminating or reducing antibiotic usage in their poultry feed, respondents cite increased incidents of necrotic enteritis (55%), coccidiosis (49%) and gangrenous enteritis (39%).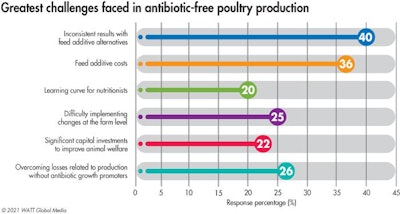 Unreliable antibiotic alternatives, high feed additive costs and overcoming the losses related to AGP-free production continue to challenge poultry producers who have reduced or eliminated their antibiotic usage. (WATT Global Media)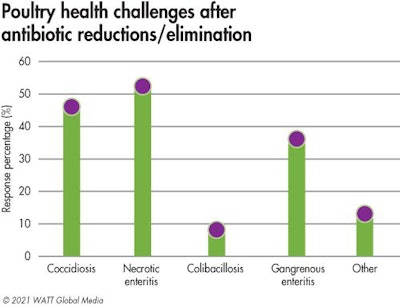 Respondents note increases in necrotic enteritis (55%) and coccidiosis (49%) in their flocks once antibiotics were reduced or eliminated from production. (WATT Global Media)
Exploring AGP alternatives
Seventy-three percent of respondents report that their company is actively exploring, testing or using feed additives as antibiotic alternatives or replacement solutions.
In an attempt to recapture the production gains AGPs provided, survey respondents incorporate different feed additives into their rations to bridge the gap. Probiotics (65%) and organic acids (62%) ranked as the most popular AGP alternatives, followed by enzymes (58%) and phytogenic feed additives (51%).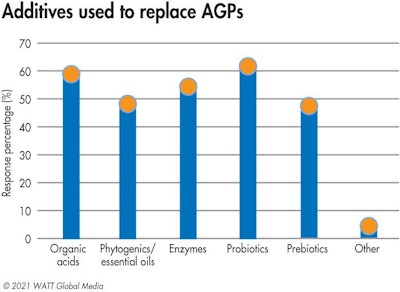 As part of their AGP replacement strategy, respondents report utilizing and/or combining probiotics (64%), organics acids (61%) and enzymes (57%). Fifty-one percent include phytogenic feed additives. (WATT Global Media)
Respondents found organic acids (81%), probiotics (81%) and prebiotics (69%) to be the most effective feed additives alternatives for in-feed antibiotics. Phytogenic feed additives and essential oils were deemed effective by 65% of respondents, however, 27% felt they could not comment on the efficacy of the category.
Comparing their outlook for 2021 inclusions against 2020, respondents will increase their use of probiotics (59%), prebiotics (50%) and essential oils (49%) this year. Twenty-eight percent will decrease their use of subtherapeutic and therapeutic (26%) antibiotics.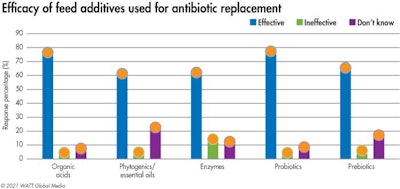 Probiotics and organics acids — when used alone or in combination with other additives — rank highly as effective solutions in antibiotic-free diets. Eighteen percent feel enzymes are ineffective as an AGP replacement solution. (WATT Global Media)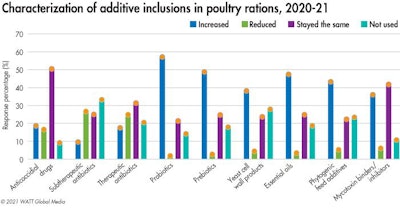 Survey respondents report plans to increase their use of probiotics (59%), prebiotics (50%), essential oils (49%) and phytogenic feed additives (44%) in 2021. (WATT Global Media)
---
Survey response breakout
The 2021 Poultry Feed & Nutrition Survey includes input from 560 poultry and feed industry stakeholders worldwide. This WATT Global Media special report seeks to identify the feeding and external trends shaping these sectors during the last 12 months. It was conducted in English and Spanish.
Participants included:
Nutritionists: 26%
Consultants: 13%
Veterinarians: 18%
General administration: 5%
Poultry farm owner/grower: 9%
Live production management: 7%
Marketing and sales: 10%
Feed mill/plant operations: 3%
Quality control, purchasing agent, other: 9%
Responses from:
Latin America: 38.5%
United States/Canada: 17%
Asia/Pacific: 18%
Europe: 12%
Africa: 10%
Middle East: 4.5%
Sectors:
Consultant/veterinarian/nutritionist: 32%
Broiler production: 13%
Feed manufacturing: 15%
Egg production: 10%
Manufacturing/distributing feed additives: 10%
Breeder farm/hatchery: 6%
Premix manufacturing: 5%
Turkey/duck production: 1%
Poultry processing: 1%
Other: 7%