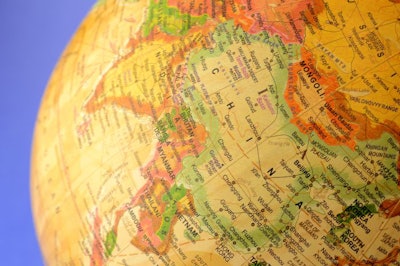 A Chinese study reveals the emergence of new variants of the African swine fever (ASF) virus that may make disease control even harder to achieve.
With the ability to transmit between pigs more easily, two of the African swine fever (ASF) virus strains that have emerged in Chinese pigs appear to pose a greater risk to the nation's pork industry. These new viruses are also less virulent than the original strain that was first detected in the country in August 2018.
These characteristics make the disease more difficult to detect, reports South China Morning Post (SCMP). And they also increase the challenges in controlling the spread of ASF.
Furthermore, the research carried out at the Chinese Academy of Agricultural Science's Harbin Veterinary Research Institute reveals that some of the other emerging strains are just as deadly as the original variant.
The research paper — titled "Emergence and prevalence of naturally occurring lower virulent African swine fever viruses in domestic pigs in China in 2020" was published in Science China Life Sciences.
In August 2020, research at the Harbin institute revealed initial positive results for an ASF vaccine. There is no proven effective, safe and commercially available vaccine against the disease in any country.
Slow recovery post-ASF in China
From the first cases of ASF in August 2018, losses of the nation's pig herd rose relentlessly.
In 2019, Chinese pork production was down 21% year-on-year, with the number of animals 60% lower than before the outbreaks started. For 2020, official figures put the subsequent annual decline at just 3%, reported SCMP this year. Output last year was officially stated as 41.13 million metric tons.
By the middle of 2021, China's agriculture ministry forecasts that sow and pig numbers will be fully restored to pre-outbreak levels.
However, one senior analyst has cast doubt on these projections.
According to Simon Quilty of Global AgriTrends, between 7 million and 8 million sows have died in China over the past 6-8 weeks in a second wave of ASF. Mortalities are related to the reported emergence of new virus strains, which may be the result of natural mutations and/or the use of illegal vaccines.
Despite the rapid construction of large modern pig units, China is still faced with many challenges in restoring its former level of pork production. As well as ASF, he said other pig diseases are circulating in China, and the reproductive performance of unselected new gilts is below optimum.
During his presentation at the ABARES Outlook 2021 conference in Australia this week, Quilty said evidence for his less optimistic view of the Chinese industry's prospects comes from continuing high levels in the prices of piglets, hogs and sows in China, forecasts of meat imports, and hog futures, as well as pig farming profitability.
ASF infections continue in Vietnam
Not only China is suffering the long-term effects of ASF. In Vietnam, there has also been a second wave of ASF since last August, according to Quilty.
Three of the country's largest producers have suffered sow infections of 20-44%, and 18-28% in fattening pigs. He attributes these developments to increased consumption, more pig movements, the cool-wet season, and continued use of swill feeding. Thailand is also a source, he added.
New outbreaks in 2 Chinese provinces
In the past week, China's agriculture ministry has officially registered one new ASF outbreak in Shandong province. According to the report to the World Organisation for Animal Health (OIE), the outbreak began in the second week of February at a pig farm near Qingdao city. Of the 147 pigs at the farm, 18 died and the rest have been destroyed. The source of infection is attributed to the introduction of new animals.
ASF was also confirmed as the cause of death of six pigs out of a group of 36 in Yunnan province. The agriculture ministry reported the animals were being transported illegally in Funing county. All the pigs have been culled, and the area and vehicle disinfected.
Malaysia extends ASF controls
In the Malaysian state of Sabah on the island of Borneo, a further 3,000 domestic and wild pigs are scheduled for culling, reports The Edge Markets. Within a 50-kilometer radius of Pitas — location of the first outbreak — local officials estimate that there are 2,000 domestic pigs, and 1,000 wild bearded pigs.
Late last month, Malaysia recorded its first ever ASF outbreak. According to the official report to the OIE notification, there were four outbreak clusters in domestic animals, and one in wild pigs starting on February 8. All 303 pigs involved died.
In the neighboring state of Sarawak, the authorities have set up an ASF control area in Limbang division. This is close to the border with Sabah, reports Malay Mail.
In this area, farmers are banned from swill feeding, or moving pigs or pork products out of the area without authorization. They are being urged to increase cleaning and sanitation of their pig units, report any sudden deaths among their animals, and report any breaches of the rules by other owners. Meanwhile, local people have been told not to purchase or send pig products into or out of the control zone.
When the latest outbreaks in Malaysia were announced, Taiwan News reported that the fines would be increased for any travelers bringing pork products into the territory.
ASF spread in Eastern Visayas region of the Philippines
First cases of ASF have been detected in Tacloban City, according to the Philippine News Agency (PNA). In the San Jose district, one animal out of a group of nine pigs tested positive for the virus last week. All pigs within 500 meters of the outbreak were being tested.
This district borders the province of Leyte, where the first cases of ASF were reported in the town of Abuyog in mid-January. Transmission to San Jose is attributed to recent flooding or the activity of local traders.
Also in the Eastern Visayas region is the island of Samar. Here, authorities have been warned by those in Tacloban City to be on high alert for ASF. So far free of the disease, the island is separated from Leyte province by a narrow strait.
Meanwhile, in the region of Western Visayas, authorities have been making checks on local shops. In Antique province, PNA reports that around 100 retailers voluntarily cleared their shelves of pork products from ASF-infected areas. Authorities say they will now target restaurants in the area, to urge owners not to take food home to feed to their own pigs.
Fiji steps up ASF preparations
With ASF known to be present in nearby Papua New Guinea, Fiji is starting on a new program of ASF preparedness. The disease has not yet hit the South Pacific island nation, reports FBC News. More than 100 officials have received a week's training on the disease, its control and biosecurity.
Next step is to develop farm biosecurity plans with pig farmers and other stakeholders. Around 3,000 households rear pigs in Fiji.
View our continuing coverage of the global African swine fever situation.