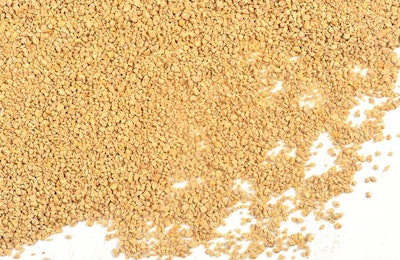 China seeking variety of feed sources as it rebuilds its pig herd
Broiler feed prices are expected to be 7% to 20% higher this year than last year, which could result in a dip in broiler production in the second half.
The U.S. Department of Agriculture (USDA) expects a less than 1% increase in broiler production in the first half of 2021, and then, in the "second half of the year, we expect production to be down because of the higher feed costs," said USDA Outlook Board Chairman Mark Jekanowski.
A decrease in production "would also support prices," he said. USDA has added 3.5 cents per pound to its 2021 average broiler price forecast, now at 84.5 cents per pound – 15% more than in 2020.
Beef production forecast
Beef producers are also "looking at much higher feed costs," Jekanowski said. "Demand has been strong, both domestic and export demand."
USDA increased its beef production forecast by 350 million pounds to more than 27.5 billion.
"You have a lot of cattle right now in feed lots and, with high feed costs, there's a lot of incentive to get them out of the feed lot and get those cows into the slaughterhouse so you don't have to feed them anymore," he said.
US pork output, China demand
U.S. pork output is likely to be slightly higher than had been expected in 2021, and higher than last year. USDA is forecasting production at 28.7 billion pounds, about 150 million pounds more than was expected a month ago.
This increase is due to "rapid slaughter pace, especially recently, so that supports higher production, and also heavier weights" as well as higher hog prices, Jekanowski said. "It all adds up to higher pork production."
Meanwhile, China's rebuilding of its hog herd after it was decimated by African swine fever (ASF) is progressing quickly.
"Rebuilding, the expansion of pork production in China has probably occurred a little bit quicker than a lot of folks has anticipated and so, to some degree, a lot of the expectations of even stronger pork demand to China haven't fully panned out," Jekanowski said. "But, again, that situation is still fluid. China's still dealing with ASF, they still clearly have very high demand and they're still in the international markets for pork, so there's still opportunity there for the U.S. to expand."
As China grows its pig herd, feed demand is growing as well. But corn prices in China are high, so producers are seeking alternative sources.
"They need a lot of feed and turning to all sources" including rice – "mostly lower quality rice that's been in storage for a long time," he said.
USDA expects record global rice production in 2021 at 504 million tons, slightly less than the projected global usage.
"Part of that reflects rice use not only for food, but for feed," Jekanowski said. "We expect to see more rice feed use in China."