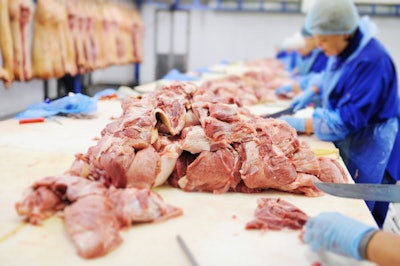 Germany's agriculture minister has outlined how African swine fever (ASF) in wild boar is indirectly affecting the national pig meat industry.
This week, Germany's agriculture minister stated that her ministry is doing all it can to mitigate the effects of COVID-19 and African swine fever (ASF).
According to the federal agriculture ministry, Minister Julia Klöckner urged all the country's federal states to do everything possible to protect their domestic pig populations. Speaking at the opening of the virtual EuroTier trade show, the minister shared the news that the number of cases of ASF among German wild boar has passed the milestone of 600 cases.
In September 2020, ASF was first detected in Germany's wild boar population, leading the country to lose its status as free of ASF. So far, none of the nation's pigs has tested positive for the virus.
Nevertheless, indirectly, the pork industry has been hit hard by the outbreaks in the wild population as several key export markets — notably China — closed their borders to German pig meat. Klöckner stated that her ministry has been in negotiations for years to agree a regionalization policy with Asian states.
German cases in wild boar approach 700
Over the past week, Germany has officially registered a further seven ASF outbreaks in wild boar with the World Organisation for Animal Health (OIE).
Covering the period January 28 to February 2, these affected a total of 35 animals found in three districts of Brandenburg in the east of the country. So far this year, 182 wild boar found at 34 locations in this state have tested positive for the ASF virus, based on OIE reports.
Latest data (to February 10) from the national veterinary agency, the Friedrich-Loeffler Institute puts the total number of ASF cases among the German wild boar population at 685. This is an increase of 59 cases since February 4. As well as 45 cases in Brandenburg (Oder-Spree and Märkisch-Oderland districts), this total includes 14 new positive tests in the Görlitz municipality of neighboring Saxony.
According to the responsible ministry in Saxony, 35 cases of ASF have so far been confirmed in the state. All were in wild boar in the same community in Görlitz.
Romania reports more outbreaks in domestic pigs
Among domestic pigs in Europe, the number of confirmed outbreaks so far this year now stands at 142, as of February 7. This is based on information supplied to the Animal Disease Notification System of the European Commission (EC).
This is an increase of 26 outbreaks from the previous week, all in Romania. This state accounts for 138 of the outbreak's total. There have also been two outbreaks each in the Republic of Serbia and Ukraine.
Over the past week, only Romania has reported new ASF cases in domestic pigs to the OIE. A total of 600 pigs were directly affected by these outbreaks. Located across five regions of the country, these belonged to 38 backyard herds of up to 102 pigs, as well as one registered farm with 28 animals.
Latest cases in European wild boar
In addition to the latest outbreaks in eastern Germany, countries registering new cases of ASF among wild boar since last week are Hungary (154 animals), Romania (110), Latvia (10) and Russia (two).
According to the EC's notification system, 10 European states have confirmed 1,885 outbreaks of ASF in wild boar so far this year (to February 7).
This source puts the highest number of outbreaks (629) in Hungary, followed by Poland (390), Germany (252), Romania (247), and Slovakia (207). Cases have also been registered through this system in Bulgaria, Estonia, Italy, Latvia and Lithuania.
Poland's chief veterinary office has released details of 128 further outbreaks of ASF in wild boar. Confirmed between January 22 and February 8, these involved a total of 201 animals. These were generally found as individuals or in small groups, but 10 wild boar were found dead at one location.
Recording the highest number of outbreaks — 78 — was the western province of Lubusz, which borders Germany. Six other Polish provinces registered at least three confirmed outbreaks, according to this source.
Pork demand is expected to rebound in most regions. However, a new report forecasts that ASF and COVID-19 will to continue to affect global pig meat production in 2021.
View our continuing coverage of the global African swine fever situation.