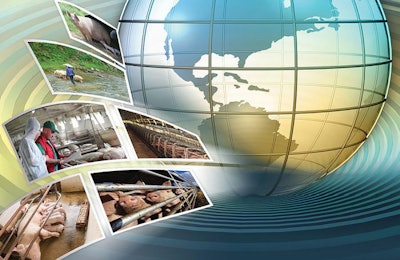 Other challenges for pork production in 2021 will be the global trade environment and high feed costs
The combination of African swine fever (ASF) and COVID-19 will continue to affect global pork production in 2021, but demand is expected to rebound in most regions, according to a new report from Rabobank.
In its Pork Quarterly for the first quarter of 2021, Rabobank said China will see strong growth in pork production after its restocking efforts from 2020, while European pork production is expected to be flat or down slightly in 2021. In the U.S., strong demand is supporting hog prices, helping to offset high feed prices; in Brazil, hog production is expected to increase despite high feed costs.
African swine fever persists
While herd restocking in China slowed in 2020 due to a resurgence of ASF, large-scale farms are expected to contribute to rapid restocking in 2021.
"Large-scale farms have gained experience in managing the disease, diagnosing ASF as early as possible and culling only a small number of hogs as a result," the report said.
After Germany saw its first cases of ASF in wild boar last fall, 10 countries banned German pork imports, but the country has been able to redirect its exports, with only a minor decline in exports in November 2020.
Effects of COVID-19
In its report, Rabobank identifies four main issues associated with COVID-19 that will affect pork production and consumption at least through 2021.
Working from home will remain
The pivot away from foodservice channels will continue, with a gradual return
Trust in the animal protein supply chains will take time to rebuild
Foodservice will not return to "normal" until 2022 or 2023
Global pork trade challenges
Besides ASF and COVID-19, Rabobank said, the other key issues that will affect global pork markets in 2021 include the global trade environment and feed costs.
China's imports reached a record high in 2020, with an 85% year-over-year increase in meat imports. In 2021, China's exports are expected to slow due to rising domestic production.
"In addition, increased scrutiny of imports at Chinese ports, due to COVID-19 risks, is significantly slowing customs clearance and raises importers' concerns over the risks of virus contamination," the report said.
While the EU and U.K. agreed to a trade deal at the end of 2020, disruptions and delays are expected as new systems are established. Major exporters are expected to try to negotiate trade agreements with the U.K., but the EU is expected to continue to lead pork shipments to the U.K. in 2021.
North American pork exports are expected to remain large in 2021, with China the largest export market for the U.S. and Canada and the second largest for Mexico.
High feed costs
Feed costs are expected to pressure hog margins throughout 2021, with prices for corn, wheat and soymeal remaining above 2020 levels. Corn will see the highest increases, followed by soymeal and wheat.
"Prices will increase for several reasons which, in aggregate, point to tightened supply and a simultaneous surge of demand," the report said, adding that high prices for corn and soybeans may trigger substitution with other grains and then raising prices of those grains as well.