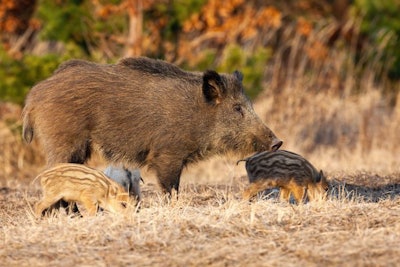 In eastern Germany, the producers' association is calling for more action to protect the nation's pigs.
Last week, Germany's agriculture ministry confirmed that a second wild boar in the state of Saxony had tested positive for the African swine fever (ASF) virus. The animal was found in the Görlitz district of the eastern state of Saxony — a district that is outside the previously designated ASF "danger zone." The location is, however, within the existing "buffer zone."
Federal Agriculture Minister Julia Klöckner called on the stated affected by ASF — Brandenburg and Saxony — to raise their efforts further to protect the domestic pig populations.
So far, no ASF cases have been detected in German pigs.
In order to maintain this situation, the minister urged the authorities in the affected areas to follow recent advice from the national veterinary agency, the Friedrich-Loeffler Institute (FLI).
After a technical assessment of the disease situation, the FLI has recommended that all free-range pigs and those with access to outdoor areas are kept housed. This was suggested for all such animals in ASF-affected areas — including those kept under organic conditions.
Klöckner urged all pig owners — commercial producers and pet owners — to follow the FLI's recommendation in order to protect the country's domestic pig population from this potentially devastating disease. While accepting that wild boar rarely have access to farms, she said that housing domestic pigs will help to protect them from indirect virus transmission.
Germany: More than 150 ASF-positive cases wild boar in 2021
So far this year, 153 wild boar in Germany have tested positive for the ASF virus, according to the FLI.
This total includes two animals found in the Görlitz district of Saxony, which were confirmed virus-positive last week. The others were from the previously affected districts of Oder-Spree, Spree-Neisse, and Märkisch-Oderland in the neighboring state of Brandenburg.
ASF was first detected in Germany in September 2020. Since then, the number ASF-positive wild boar has risen to 556, as of January 22.
Last week, the BMEL reported that more than 530 cases of ASF had been detected in wild boar in Brandenburg, and a further 18 in Saxony.
At the end of last year, Germany introduced a zoning system to control the movements of wild boar in its eastern border area with Poland.
German farmers draw up ASF white paper
Producer organizations in eastern Germany have come together, united by their concerns over the ASF situation and criticisms of the official responses to it. On Schweine.net, the national pig association (ISN) states that the resulting white paper raises justifiable concerns.
With the continuing existence of the nation's pig sector at stake, authors of the document call for immediate actions to eradicate ASF in Germany. Among the practical measures they suggest, they want the current system of fences to be extended and sealed, together with more consistent hunting of the wild boar they enclose. They also suggest more coordination of control measures, between German regions and with Poland.
In addition, ISN is urging the creation of local crisis teams. With close knowledge of an area, these would be able to respond quickly to solve any emerging disease control failures.
ASF situation in European domestic pigs
Latest update from the European Commission (EC) puts the number of ASF outbreaks in domestic pigs so far this year at 66. Of these, 65 were in Romania and one in Ukraine, according to its Animal Disease Notification System, as of January 17.
Over the past two weeks, Romania has officially registered 39 new ASF outbreaks in domestic pigs. According to the animal health agency's reports to the World Organisation for Animal Health (OIE), these directly involved 450 pigs. Two of the outbreaks related to one or more pig carcasses discarded in public areas. All other outbreaks affected backyard herds of up to around 130 animals across the country.
Since the start of 2021, eight ASF outbreaks have been confirmed in domestic pigs in Russia. In the Central federal district, these have affected four large farms of up to 34,000 animals — a total of almost 78,000 pigs, according to official OIE reports.
Two of the affected premises appear to be related, and are located in the Zheleznogorsky district of Kursk oblast. At these units, 173 pigs died out of a herd of 33,900. There were a further 56 mortalities at the second premises with 21,300 animals. Also affected were a third farm in Kursk, as well as one in Tambov oblast.
According to Russia's agriculture ministry, ASF has also been detected in four backyard herds since January. Two of these were in the Central district, and two in Volgograd (Southern federal district).
As of January 17, the EC system has recorded 812 outbreaks of ASF among European wild boar so far this year. Of these, 307 were confirmed by Hungary. Other countries registering more than 100 cases are Poland (127), Slovakia (107) and Germany (102).
View our continuing coverage of the global African swine fever situation.