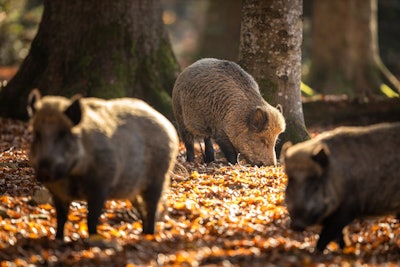 For the first time, a case of African swine fever has been confirmed in Poland's most northwestern province.
Surveillance of the wild boar population across Poland has revealed the first cases of African swine fever (ASF) in the northwestern province of West Pomerania (Zachodnio-pomorskie). Two animals — one shot, and one dead — were found around one kilometer from the border with Germany, according to the Polish chief veterinary office.
Over the past week, the same agency has reported a further 132 outbreaks of ASF among the Polish wild boar population. Identified as suspected of infection between November 25 and December 14, a total of 217 animals were affected in these latest outbreaks.
Majority of these outbreaks occurred in the western province of Lubusz, which also borders Germany. Infection was also confirmed in animals found in Warmia-Masuria, Masovia, Sub-Carpathia (Podkarpackie), Podlaskie, and Lower Silesia (Dolnoslaskie).
Further cases in German wild boar
Over the past week, German's federal agriculture ministry has officially registered a further six ASF outbreaks in wild boar. A total of 65 animals were involved in these outbreaks, according to the latest report to the World Organisation for Animal Health (OIE).
Found over the period December 10-16, all cases were in the eastern state of Brandenburg. Three outbreaks were in the Oder-Spree district, two in Märkisch-Oderland, one in Spree-Neisse. All these districts have registered previous ASF cases in wild boar.
A subsequent update from the national veterinary agency, the Friedrich-Loeffler Institute, confirms a further 40 cases. Covering the period December 17-21, all these wild boar were from the same three districts.
ASF returns to Ukrainian region
After an 11-month absence, ASF has returned to Mykolaiv (Nikolaev) oblast in southern Ukraine, according to the latest report to the OIE. The country's veterinary agency reports that the disease was detected in small backyard herd after one of the animals died.
Earlier this month, a group of seven wild boar also tested positive for the ASF virus. These animals were found in the central region of Kiev. In this oblast, the most recent cases were on a small farm in mid-October.
Romania records more outbreaks in backyard herds
Over the past week, Romania's animal health agency has registered a further 15 ASF outbreaks in domestic pigs.
All occurred in backyard herds ranging in size from one to 43 pigs — 205 in total. One additional outbreak was confirmed in a group of nine pig carcasses that had been found discarded by a road in central Romania.
Between November 30 and December 16, 65 wild boar tested positive for the ASF virus in Romania, according to the latest official reports.
Over the past week, Latvia's agriculture ministry has confirmed to the OIE a further 15 cases of ASF among its wild boar population.
Slovenia prepares for ASF
National Assembly of this central European country has recently passed legislation ahead of the possible entry of ASF. Included are emergency measures that will target the wild boar population, reports STA news agency. A proposed cull of wild boar is not supported by all parties.
South Korea records more cases in wild boar
Over the past week, the country's agriculture ministry has registered a further 10 cases of ASF among its wild boar population. Confirmed over the period December 10-17, all these animals were found in South Korea's northern border provinces.
Update on ASF situation in North Korea
Since North Korea reported to the OIE its first cases of ASF in May 2019, no further information on the progress of the disease has been released.
However in October of this year, pork supplies were scarce and prices very high in North Korea, according to Daily NK. It reported that piglets were "almost impossible" to obtain at markets. "Swine flu" was blamed for the situation, as it caused mortality among pigs, and abortions in sows.
North Korea's only confirmed outbreak was at Buksang cooperative farm in Chagang province, reported Daily NK. There, 77 pigs died and the remaining 22 animals were culled in May 2019. Pork shortages and repeated government calls for pig owners to comply with disease prevention measures indicate that the disease was still spreading in North Korea two months ago.
View our continuing coverage of the global African swine fever situation.