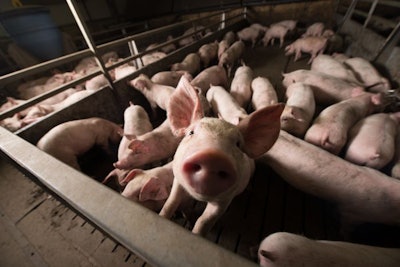 Following a three-year absence, African swine fever (ASF) has returned to Russia's Siberian region, and there has been a cluster of outbreaks on large farms in the Central district.
Over the past week, two countries in Europe have recorded new African swine fever (ASF) cases in domestic pigs.
According to the Animal Disease Notification System of the European Commission (EC), there were 33 new confirmed outbreaks in Romania, and one in Ukraine.
Up to December 13, the EC's system puts the total number of outbreaks in Europe's domestic pigs at 1,180 — an increase of 34 from the previous week.
Now standing at 995, the number of outbreaks in Romania so far this year is just short of a significant milestone. However, the great majority of this country's outbreaks have been in small backyard herds. Furthermore, Romania registered more than 1,700 outbreaks in this sector during 2019.
Poland has recorded 103 ASF outbreaks in pigs with the EC this year. There have been no new cases since the end of October.
Cluster of large outbreaks in Russia
During the past week, ASF has been confirmed at four farms in the Bezhetsky district of Tver oblast. According to the official report from the Russian agriculture ministry to the World Organisation for Animal Health (OIE), three of the affected units each housed around 50,000 animals. In total, more than 160,000 pigs were involved in these outbreaks, including mortalities exceeding 400. The fate of the remaining pigs was not disclosed.
Tver oblast is located in Russia's Central federal district. Belonging to the same district is Kursk oblast, where ASF was detected at two large farms in the same district during November.
In another significant development in the ASF situation in Russia, the agriculture ministry has registered with the OIE a recent ASF outbreak in Omsk oblast. Affecting a backyard herd of 188 pigs in late November, this was the first outbreak in the Siberian federal district for three years, according to the official report.
Overview of ASF in European wild boar
Up to December 13, 10,370 wild boar hunted or captured in Europe have tested positive for the ASF virus, based on reports to the EC. This is 338 more than in the previous week's update.
According to this source, Poland has now overtaken Hungary in terms of confirmed cases in wild boar. The Polish total has risen by 117 over the past week to reach 3,896. For Hungary, the increase was 48 over the same period to 3,881.
Also registering new ASF cases in wild boar with the EC since the start of December were Romania (819 virus-positive cases this year), Bulgaria (491), Germany (302), Slovakia (298), Latvia (287), Lithuania (216), Estonia (63) and Italy (39).
The EC has approved reimbursement of BGN15 million lev (US$9.4 million) to Bulgaria toward its costs of combating ASF this year. According to the national food safety agency, this came after a payment of BGN22.5 million for the same purpose in 2019, when 44 outbreaks in pigs were recorded. So far in 2020, Bulgaria has registered 19 outbreaks.
Latest situation in Germany, Poland and Russia
Latest information from Germany put the number of cases among wild boar at 318. Over the period December 10-16, Germany registered a further 35 cases of ASF in wild boar. All were in the eastern state of Brandenburg. According to the Friedrich-Loeffler Institute, 23 of these cases were found in the district of Oder-Spree, and six in each of Märkisch-Oderland and Spree-Neisse. All three municipalities have registered multiple previous cases.
Latest update on the situation in Poland reveals a further 98 confirmed new ASF cases in wild boar. All were identified as suspected cases between October 27 and the end of November, and confirmed up to December 7.
According to the chief veterinary office, 22 of the 58 outbreaks were in the province of Warmia-Masuria, 14 in Lublin, 10 in Lubusz, eight in Sub-Carpathia (Podkarpackie), and four in Podlaskie.
Over the past week, Russia's agriculture ministry has registered with the OIE a further three cases of ASF in its European territories. All were found in district of the Volga federal district where previous cases have been recorded.
View our continuing coverage of the global African swine fever situation.