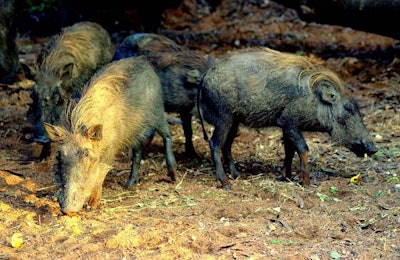 As the number of confirmed cases of African swine fever among European wild boar breaks through the significant milestone of 10,000, just 1 country has reported new cases in domestic pigs.
Since December 3, the only European country to have reported African swine fever (ASF) outbreaks in domestic pigs is Romania. A total of 29 outbreaks have been confirmed in the country, according to the Animal Disease Notification System of the European Commission (EC).
For the first week of this month, the same source has registered 19 additional ASF outbreaks. Of these, 17 were in Romania, and the other two in Ukraine.
New ASF cases in wild boar in 9 European countries
Between December 3 and 9, a total of 260 new cases were reported to the EC. Of these, the highest number were found in Poland (83 outbreaks). Germany confirmed 65 new outbreaks; Hungary, 60; Romania, 26; and Slovakia, 16. Registering up to three new outbreaks over this period were Estonia, Italy, Latvia and Lithuania.
Latest update on the situation in Poland reveals a further 142 confirmed new outbreaks among wild boar according to the chief veterinary office. Of these, 97 outbreaks were in the western province of Lubusz, 19 in Sub-Carpathia (Podkarpackie) and 18 in Warmia-Masuria. Remaining animals had been found in Mazovia, Podlaskie or Lower Silesia (Dolnoslaskie).
Affecting a total of 200 individual animals, the cases were suspected over the period November 4-24, and were confirmed up to December 2.
Between December 3-9, Germany reported a further 70 cases of ASF in wild boar — all in the state of Brandenburg. According to the Friedrich-Loeffler Institute, 56 of these cases were found in the district of Märkisch-Oderland, and the rest in Oder-Spree. Both municipalities have registered multiple earlier cases.
Bulgaria recorded 31 cases of ASF among its wild boar population during November, reported SeeNews this week. Majority of these cases were found in the southeastern province of Yambol.
European wild boar cases: 10,000 milestone exceeded for the year
So far this year, 10,032 wild boar hunted or captured in Europe have tested positive for the ASF virus, based on reports to the EC. This figure covers the total to December 6. Over recent years, this number has been rising steadily, and in 2019, the total stood at 6,407.
According to this source, Hungary has recorded the most outbreaks — 3,833 — so far this year, which is an increase of 90 since the end of last month. Now standing at 3,779, Poland's total has risen by 78 over the same period.
Also registering new ASF cases in wild boar with the EC since the start of December were Romania (784 virus-positive cases so far this year), Latvia and Slovakia (each with 274), Lithuania (206), Germany (254) and Italy (38).
India: New ASF cases in northeast
In the state of Manipur, heavy losses of domestic pigs have been reported on farms, according to The Hindu. Details of numbers of pigs affected are not provided, but the report mentions "huge losses." One owner said almost all her animals had died.
The epicenter of the latest outbreaks appears to be a district that borders the state of Nagaland, as well as two regions of Myanmar, where ASF outbreaks have been detected recently.
In response to criticism from local pig keepers regarding a lack of official support, the district veterinary officer is offering vaccination, according to the report. As no proven effective and safe vaccine against the ASF virus is available, it is unclear what measures will be offered to Manipur's pig keepers to protect their animals.
In another northeastern state on India — Meghalaya — restrictions have recently been lifted recently after previous ASF outbreaks in the area.
Challenges of ASF control in Papua New Guinea
The arrival of coronavirus (COVID-19) increased the challenges of tackling ASF in the Asia-Pacific island nation of Papua New Guinea, reports Post Courier.
Attempts to monitor the spread of ASF in one district were hampered this year by the arrival of coronavirus.
In the affected Highlands region, an estimated 600,000 households keep pigs. Producing around 1.8 animals each year, the pigs are central to social life, and a medium of exchange.
According to the World Organisation for Animal Health, ASF was first confirmed in Papua New Guinea in March of this year. Involving around 400 pigs in total, four outbreaks are still ongoing.
View our continuing coverage of the global African swine fever situation.