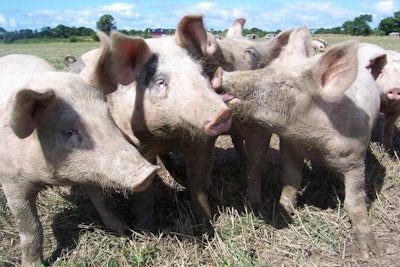 While new cases of African swine fever continue to come to light among wild boar in Europe, only Romania and Ukraine have recorded new outbreaks among domestic pigs.
Among domestic pigs in Europe, the number of confirmed outbreaks of African swine fever (ASF) so far this year now stands at 1,127.
Recorded through the Animal Disease Notification System of the European Commission (EC) for the year to November 29, the total has risen by 45 from two weeks previously. All these latest outbreaks were in Romania.
According to this system, 10 European states have registered ASF cases in 2020. Since the start of November, only two countries have confirmed new cases in farmed pigs — Romania and Ukraine.
Over the past week, the veterinary authority in Ukraine has registered two new ASF outbreaks. According to the official report to the World Organisation for Animal Health (OIE), the disease was detected in small backyard herds in Odessa and Poltava.
These outbreaks represented a return of the disease to both oblasts. While there had been no cases in Odessa for more than 12 months, ASF had been detected in Poltava as recently as September of this year.
9 European countries report new ASF cases in wild boar
So far in 2020, 14 states have confirmed such cases to the EC — with outbreaks during the month of November in 10 countries so far.
Total number of outbreaks for the year to November 29 is 9,761, according to the EC. Since the previous update two weeks prior, the total has risen by 303.
According to this source, Hungary has recorded the most outbreaks — 3,743 — so far this year, which is an increase of 40 in two weeks. Now standing at 3,701, Poland's total has risen by 131 over the same period.
Also registering new ASF cases in wild boar with the EC since the start of November were Romania (770 virus-positive cases so far this year), Bulgaria (450), Latvia (269), Slovakia (261), Lithuania (203), Germany (188), Estonia (62) and Italy (36). Location of the latest Italian cases is not reported. However, there is a long-running scheme to eradicate the disease on the island of Sardinia.
Latest data put the number of German wild boar that have tested positive for the ASF virus at 198. This is 18 more than the previous week, according to the national veterinary agency, the Friedrich-Loeffler Institute. All these animals were found in areas where earlier cases had been detected — in Brandenburg (municipalities of Oder-Spree and Märkisch-Oderland), and Saxony (Görlitz).
In Poland, more ASF-infected wild boar have been reported by the chief veterinary office. A total of 23 new outbreaks have been confirmed over the past week, mostly involving individual animals. These were found at various locations in the provinces of Podlaskie, Warmia-Masuria, Lubusz, Mazovia and Sub-Carpathia (Podkarpackie).
India: Some ASF restrictions lifted
Two villages in the northeastern state of Meghalaya have been "decontained," reports The Shillong Times. After 45 days without any new cases of ASF, some restrictions are being eased in the East Jaintia Hills district. However, some bio-containment, biosecurity and preventative measures will be retained.
First ASF outbreaks in northeast India were reported in May, according to the OIE. It is thought the infection emerged there in January. Around 3,700 pigs have been lost to the disease through mortality or culling, and 11 outbreaks are defined as "ongoing."
Pig farmers in The Philippines compensated for culled animals
More than 700 pig keepers in the province of North Cotabato are set to receive financial compensation for their animals culled as result of an earlier ASF outbreak. Cash is provided by the Department of Agriculture, reports the Philippine News Agency (PNA). Rates paid are PHP2,000 (US$41.66) per sow, boar, grower or fattener, and PHP500 per sucking piglet. Recipients are in Magpet, Kidapawan City, Arakan, President Roxas and Makilala.
In an ASF-free area, pig owners are urged to stop feeding swill to their animals, according to PNA. The local veterinary officer of Mati City has offered to supply compound feed, if necessary. The infection can be transmitted in swill.
PNA reports new ASF outbreaks in two towns in Davao de Oro in November, after cases in Davao del Norte in October.
All these provinces are on the island of Mindanao.
In other ASF-related news, recent research at the IRTA-CReSA institute reveals a potential new way to protect pigs from infection. This involves transferring gut microbes from ASF-resistant wild species into domestic animals.
View our continuing coverage of the global African swine fever situation.