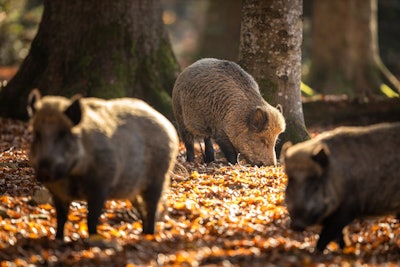 As African swine fever is confirmed in the domestic pigs of 4 European states — Poland, Romania, Russia and Ukraine — an infected wild boar has been found in a new area of Germany.
Among the premises recently affected by African swine fever (ASF) in Romania is a large commercial farm with approximately 6,000 pigs.
Over the past week, Romania's veterinary authority has officially registered a further 31 ASF outbreaks in domestic pigs. According to the report to the World Organisation for Animal Health (OIE), 30 of these latest outbreaks were in backyard herds of up to 24 animals. Of the total 6,158 pigs lost to the disease through mortality or culling, almost 6,000 were on a single farm in Calarasi. Located in the south of the country, the county borders Bulgaria.
Based on reports received through the Animal Disease Notification System of the European Commission (EC), the majority of ASF outbreaks in Europe's domestic pigs so far this year have occurred in Romania. It accounts for 854 of the 1,034 confirmed outbreaks up to November 1.
ASF returns to Ukraine
After a brief absence, ASF has been detected again in the Dnipropetrovsk oblast of Ukraine. According to the official OIE report, the virus was detected in a backyard herd of 10 animals after one of the pigs died at the end of last month.
The source of the latest infection is unknown, reports the national animal health agency. ASF was last reported in this oblast in mid-September.
1 new outbreak affects Polish backyard herd
Over the past week, Poland's chief veterinary office has recorded a single new outbreak of ASF among domestic pigs. Affected was a herd of 11 animals in the southwestern province of Podkarpackie (Sub-Carpathia).
This latest outbreak brings the country's total since March to 103, directly impacting just over 57,000 pigs.
As of November 1, the number of ASF in domestic pigs in Europe stands at 1,034, according to the EC. Reporting new cases during October were five states — Bulgaria, Moldova, Poland, Romania and Ukraine.
Russia's veterinary agency calls for improved ASF controls
Detection of genetic material from the ASF virus in finished foods is evidence of incomplete disease controls in some regions of Russia.
According to the national veterinary and food safety agency, Rosselkhoznadzor (FSVPS), the findings indicate that sick animals are entering the food chain. The material has been found in meat products produced in the Voronezh region. As the contaminated products were found in several other regions, this highlights the risk of spreading the infection across the country.
To reduce this risk, the agency called for improvements to disease control measures in Russia.
Among these are the previous introduction and more effective implementation of movement controls in cases of suspected outbreaks. It also wants to see improvements in accounting for all animals involved, and in veterinary documentation. Rearing of pigs by households and on small farms is to be more rigorously controlled, and wild boar numbers are to be reduced. Farm biosecurity needs to be improved, and illegal trade in live pigs and pork products must be halted, according to Rosselkhoznadzor.
ASF-infected wild boar found in new German region
A first wild boar in Saxony has tested positive for the ASF virus, the federal agriculture ministry (BMEL) reported on October 31. The animal was found near the Polish border, at Oberlausitz in the municipality of Görlitz.
Since ASF was first detected in a wild boar on September 10, all cases had been found in one of three districts in the state of Brandenburg. Saxony is located on the southern border of Brandenburg.
According to EC data, the number of ASF-infected wild boar in Germany stood at 118 on November 1. This was an increase of 27 from the previous week.
So far, no cases have been detected among the nation's domestic pigs.
Outbreaks among European wild boar reach 9,180
Up to November 1, EC has recorded 9,180 confirmed outbreaks of ASF in wild boar since the start of 2020. This is an additional 95 cases from the previous week.
According to this source, Hungary has recorded the most outbreaks — 3,649 — which is an increase of 21. At 3,470, Poland's total has risen by 25 over the same period.
Since the beginning of October, seven other European states have confirmed ASF outbreaks in wild boar to the EC: Romania (701 positive cases so far this year), Bulgaria (447), Latvia (245), Slovakia (197), Lithuania (191), Germany (118) and Estonia (53).
Countries reporting new ASF cases in wild boar to the OIE over the past week were Germany (29 animals), Hungary (24), Latvia (8), Romania (6) and Russia (2).
View our continuing coverage of the global African swine fever situation.