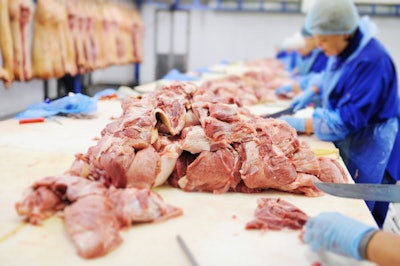 With COVID-19 restrictions continuing to interrupt production at slaughterhouses, Germany's agriculture minister says a private storage scheme would be a last resort to resolve supply chain issues.
Germany remains among Europe's top pig meat producers. However, the sector continues to be severely challenged by two diseases — one human, and one affecting swine.
Over the past month, growth in cases of African swine fever (ASF) among its wild boar population has led a number of key export markets halting imports of the German pork. So far, there have been no cases of the disease among Germany's domestic pigs.
Meanwhile, the country's pork supply chain also continues to suffer adverse impacts of coronavirus (COVID-19). Cases among workers at pork slaughterhouses have heavily restricted production at these plants. As a result, market-ready pigs are being held on farms. The resulting heavy stocking and mounting costs are adversely impacting animal welfare and producers' bottom line.
The situation is being taken seriously by leading national and regional politicians. Over the weekend, federal agriculture minister Julia Klöckner met the farming ministers in the affected states of Lower Saxony and North Rhine-Westphalia to explore the situation, and develop solutions to the situation caused by these dual health challenges.
According to the federal agriculture ministry, pig producers have expressed their concerns about a looming animal welfare problem.
Production cut before private storage
To ease the situation, there have been calls for a private storage scheme for pork. However, Klöckner made it clear that this would be a step of last resort. It will only be considered after producers take significant steps to curb pig meat output, she said.
As a short-term solution to ease this supply chain issue, she is said to be considering Sunday and public holiday work at slaughterhouses and meat processing plants.
Pork production in Germany has been falling throughout the past decade, according to data from the country's meat association, VDF. Output was put at a provisional figure of 4.72 million metric tons (mmt) liveweight in 2019 — down from a peak of 5.11 mmt in 2011.
Farmers call for extended slaughterhouse opening
With restrictions on pig flows since July, farmers have urged meat companies to open plants for longer hours. In response, VDF said reductions to slaughtering and cutting capacities have been put in place to protect the workforce from COVID-19. Safety of employees is the top priority, it said. Additional labor shortages have arisen ahead of the January 1 deadline on the use of external workers in this sector.
As a result, VDF says, no additional staff are available for weekend or holiday working — unless an official exemption is applied to working hours regulations.
Continued but reduced working at 2 Lower Saxony meat plants
One slaughterhouse has been authorized to reopen on low capacity, reports RTL. This is despite detection of the coronavirus in more than 100 workers at the plant.
Despite the green light to reopen, production at the premises of Tönnies' subsidiary Weidemark at Sögel will be heavily restricted until the end of the month. Among other measures, workers will have to wear high-grade masks while on the premises, and employees may only travel between their homes and the factory.
Last week, NDR reported that 48 workers at a slaughterhouse in Emstek had tested positive for the coronavirus on a single day. These latest cases brought to 63 the number of infected workers at the Vion plant.
Together with local health officials, the company has agreed to reduce daily slaughtering at the plant to 7,000 pigs from the usual throughput of around 11,000.
COVID-19 has not only impacted the German pork sector, of course. Since the start of this year, the pandemic has impacted agri-food companies and consumers in a multitude of ways around the globe.