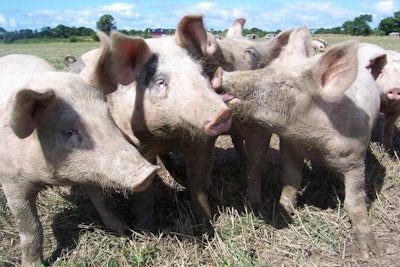 As Poland confirms the country's fifth outbreak of African swine fever in domestic pigs this year, there have also been new cases among Romanian and Russian backyard herds.
There has been another African swine fever (ASF) outbreak on a farm in Poland, according to the office of the chief veterinary officer.
Latest to be affected was a herd of 23 pigs — including two sows — at a farm in Dalkow, which is in the southwestern province of Lower Silesia (Dolnoslaskie). The authorities are carrying out the procedures aimed at eradicating the disease.
To the World Organisation for Animal Health (OIE), Poland's agriculture ministry has recently confirmed a previous outbreak in Wlodawa county in the eastern province of Lublin. Here, there were 14 cases among a herd of 70 pigs during the first week of June.
First of Poland's ASF outbreaks in 2020 was in March at a large breeding farm in the western province of Lubusz. This was followed by a related outbreak in Greater Poland, which involved pigs purchased from the primary infected premises. Since the Lublin outbreak that has just been confirmed, the virus was detected at a small farm in the Ratowice area of Greater Poland.
Located in southwestern Poland, Lower Silesia borders Lubusz province, as well as Germany and the Czech Republic.
More outbreaks in Romanian backyard herds
Over the past week, a further 13 ASF outbreaks have been reported to the OIE by Romania's animal health agency.
With herd sizes up to 61, a total of 173 pigs were involved in these outbreaks. Starting between May 25 and June 16, they occurred at premises in 10 counties across the country.
One Russian backyard outbreak
Russia's agriculture ministry has confirmed to the OIE a further ASF outbreak in a backyard herd in the west of the country. Two pigs died out of 30 animals in Novgorod oblast, which is in the Northwestern federal district.
16 new ASF outbreaks in European pigs
In its latest update, the European Commission Animal Disease Notification System (ADNS) recorded a total of 327 ASF outbreaks in domestic pigs in Europe so far this year.
This represents an increase of 16 from the previous week's report. Romania accounted for 15 of these latest outbreaks, and there was one in Poland.
From this source, by far the worst-affected country in Europe so far this year has been Romania (295 outbreaks). Also reporting cases in 2020 have been Bulgaria (17 outbreaks), Ukraine (8) and Poland (4). There has been one new outbreak in Greece, Lithuania and Moldova. Russia is not included in the ADNS.
More outbreaks among European wild boar
Over the past week, four states have reported new ASF cases in wild boar to the OIE.
In Poland, a total of 249 cases were confirmed between January 27 and March 5. There have been 79 recent cases in Hungary, 10 in Romania, and three in Latvia.
Europe's count of ASF cases in wild boar so far this year has reached 6,922, according to the EC-ADNS system. This is an increase of 243 from the previous week's total, and includes 167 new cases in Hungary, 54 in Poland, and 12 in Romania.
At 2,866 and 2,695, respectively, Hungary and Poland have reported the highest number of infected animals since the start of 2020.
Other countries that have reported significant numbers of ASF-infected wild boar to the EC so far this year are Romania (528 cases), Bulgaria (329), Latvia (133), Slovakia (122) and Lithuania (115). Also reporting new cases over the past month was Estonia.
View our continuing coverage of the global African swine fever situation.