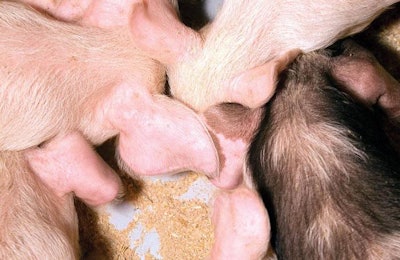 Official reports from Laos on the African swine fever (ASF) situation point to a significant spread of the disease among the country's domestic pigs, while there have also been new cases in the Far Eastern Federal District in Russia, and Yunnan province in China.
Since the Southeast Asian state first reported outbreak of African swine fever (ASF) at the end of June, reports from Laos indicate that the virus has affected domestic pigs in 13 provinces across the country, as well as the capital city, Vientiane.
According to the agriculture ministry reports received by the World Organisation for Animal Health (OIE) over the past two weeks, 76 outbreaks of the disease affecting more than 19,800 pigs were confirmed between June 28 and August 13. Nearly all the outbreaks were in groups of pigs described as "village" herds ranging in size from five to almost 1,000 animals, and the disease has also affected one zoo.
To date, the number of confirmed ASF outbreaks in Laos has reached 94, affecting almost 25,800 pigs.
Eight new ASF outbreaks confirmed in Russia's Far East
Since the first cases of ASF were reported in the Far Eastern Federal District just over one month ago, the number of outbreaks has risen to 11, involving more than 560 domestic pigs, as well as a few wild boar.
Based on the latest reports from the agriculture ministry in Moscow to the OIE, eight outbreaks were confirmed in backyard and village herds between August 18 and 24. More than 270 pigs were affected by these outbreaks, which occurred for the first time in one new district of Primorsky krai as well as two new regions of Amur oblast.
ASF returns to Yunnan province in China
No cases of ASF in Yunnan had been reported to the OIE by China's agriculture ministry since the end of May, but the disease appears to have returned to the province on August 20. After 26 pigs died at a farm at a community in Zhaotong city prefecture, the presence of the ASF virus was confirmed, and the remaining 94 animals of the herd were destroyed.
Based on official reports, the spread of ASF in China has slowed considerably, but the significant loss of animals to the disease has resulted in a shortage of supplies for consumers, and to rising prices.
In order to address these issues, the government has announced higher subsidies on pork for consumers and producers, reports South China Morning Post (SCMP).
Around CNY2 billion (US$280 million) has already been paid out to support the market since April, but the impact across the country has been variable. Last week, the Beijing government resolved to bring into operation a pork price mechanism that will facilitate the raising of local government subsidies in line with consumer process.
According to SCMP, the wholesale price of pork has increased by 26% within one month to CNY30.79 per kilogram (US$1.95 per pound).
Since August 2018, there have been 155 confirmed ASF outbreaks in China, according to the United Nations' Food and Agriculture Organization, and the number of pigs culled is around 1.17 million.
Cambodia, Philippines, Vietnam on ASF alert
After six confirmed outbreaks in June and July, no new cases of ASF have been detected in Cambodia since early July, according to the latest report from the country's animal health agency to the OIE.
Previous reports indicating that ASF may have reached The Philippines have been denied. The cause of elevated mortality among pigs in Luzon has not been definitively identified, according to Daily Inquirer, but the government reports it was not ASF. All pigs within a one-kilometer radius of the affected premises have been culled, according to the agriculture department, and the unspecified disease has been contained.
A recent publication from the Department for Agriculture states that quarantine and food safety measures have been strengthened in the Philippines, including through surveillance of pig farms — particularly backyard operations — and advice to farmers on improving biosecurity. All meat establishments also need to obtain a permit to operate, showing that fresh meat and meat products are safe to eat.
ASF has been reported in 62 of 63 provinces/cities in Vietnam, and losses of pigs now estimated at 4.4 million, according Vietnam News. Deputy Agriculture Minister Phung Duc Tien expressed his concerns over downstream contamination when seeing pig carcasses in a river in the northern province of Bac Giang, and said that the country must work together to overcome a shortage of personnel — particularly veterinarians — to bring the disease under control.
Over the past week, OIE has received reports of new outbreaks of ASF in domestic pigs in eight European states and Zimbabwe.
View our continuing coverage of the African swine fever outbreak.