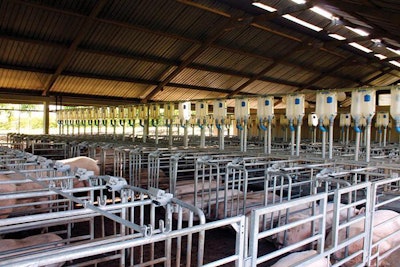 New Hope Liuhe has completed construction on its first pig farm in Vietnam, according to a Reuters report.
New Hope Liuhe, China's largest animal feed and poultry producer, is expected to begin populating the farm in Binh Phuoc in November, with expected inventory of 13,500 Hypor-breed sows produced by Hendrix Genetics. The company also plans to build a feed mill on-site; it has eight other feed mills in Vietnam, which produced 700,000 tons of feed in 2018.
In 2018, according to WATTAgNet's Top Feed Companies database, New Hope Group produced 20 million metric tons of animal feed for pigs, poultry and aqua species.
New farm completed as Vietnam fights ASF
According to a recent report from the Food and Agriculture Organization of the United Nations (FAO), the number of pig losses in Vietnam due to African swine fever (ASF) has reached about 4 million.
ASF was first detected in Vietnam in February and has since spread to 61 of the country's 63 provinces.
In early August, one outbreak was confirmed in the southern province of Binh Phuoc, where New Hope's new farm is located. About 30 pigs were culled in the province after the ASF virus was detected. The disease has been found in all districts in the province, and more than 5,300 animals have been culled so far in Binh Phuoc alone.
"For pig farming, every disease is both a challenge and an opportunity. Similar to what is happening in China, African swine fever disease will accelerate the consolidation of the pig farming sector," said Liu Zhong, general manager of New Hope Liuhe's overseas pig sector, in the report.
New Hope's new pig farm will have thorough sanitation and disinfection systems and animal waste treatment facilities, the company said.
View our continuing coverage of the African swine fever outbreak.