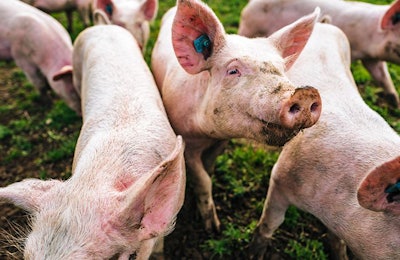 China's agriculture ministry said last week that criminals are taking advantage of the African swine fever (ASF) epidemic across the country by faking outbreaks of the disease at farms.
The Ministry of Agriculture and Rural Affairs said the criminals dump dead pigs on farms and then spread false reports that the farms are infected with the deadly swine disease, according to a Reuters report. Farmers then are pressured to sell their pigs at lower prices, and this is affecting normal pig production, which has already been disrupted by the disease since the first outbreak almost a year ago.
The ministry has urged any witnesses to the scam to alert the authorities.
"All localities should be vigilant and actively guard against it," it said.
Veterinary checks underway
Meanwhile, the ministry said it would conduct checks on veterinary authorities in 10 provinces across the country to prevent further spread of ASF. Accounts of underreporting of the disease will be investigated, it said.
Reuters said veterinary authorities from two counties in the following provinces and regions will be evaluated: Hebei, Heilongjiang, Jiangsu, Henan, Anhui, Guangxi, Fujian, Sichuan, Yunnan and Shaanxi.
"One county must be a place where there has recently been an outbreak of the disease, and it should be compared with another county, ideally administered by the same city or in the same area, where the disease has not occurred," the report said.
Evaluations are set to be completed by October 31 and findings submitted to the ministry by December 31.
Underreporting suspected
China's official reports don't match up with what producers and veterinarians on the ground in that country say is taking place, said Paul Sundberg, executive director of the Swine Health Information Center, in a WATTAgNet report in April.
"I think it's common information that China is underreporting both the number and extent of ASF outbreaks that they've had in the country, and that continues," Sundberg said.
Although multiple parties have floated estimates about the impact of ASF in China, Sundberg doubted whether any of them were accurate. The outbreak, he said, is "very severe," and almost certainly larger than what the Chinese government has reported.
Jim Monroe, senior communications director for the National Pork Producers Council (NPPC), is similarly skeptical of China's claims regarding ASF.
"They're dealing with an animal disease that is virtually endemic, in the world's largest swine herd, and struggling to get a handle on it," he said. "It's hard to believe they're getting it under control."
View our continuing coverage of the African swine fever outbreak.