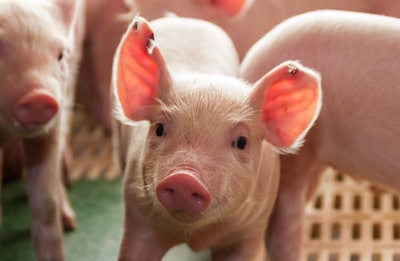 A proper regulatory framework for gene editing in U.S. livestock would have multiple benefits, pork industry leaders say, and key among those benefits is it could introduce pigs that are resistant to diseases such as African swine fever (ASF).
The National Pork Producers Council (NPPC) recently launched its "Keep American First in Agriculture" campaign, which urges the federal government to accept and regulate gene editing in animals raised for food production. To explain the importance of the benefits of gene editing, NPPC hosted a teleconference that featured four pork industry experts.
Dr. Alison Van Eenennaam, animal biotechnology and genomics extension specialist, University of California-Davis, explained that gene editing offers an approach "to precisely introduce useful genetic variation in food animal breeding programs," but unlike genetic engineering, does not necessarily involve the introduction of foreign DNA.
"Gene editing really opens up a new opportunity for breeders to address critical problems such as disease resistance … resilience like heat tolerance, and also product quality traits. I think that's why the global academic community is so excited about the potential to use this in our food animal breeding programs," she said.
Dr. Dan Kovich, NPPC's deputy director of science & technology, is among those people who are excited.
He pointed out that through gene editing, a variety of pigs that are resistant to the porcine reproductive and respiratory syndrome (PRRS) virus has been developed, despite its lack of availability in the United States.
"The PRRS edit is the real thing. It's been proven to be successful," Kovich said.
He also stressed an edit could be made to develop pigs resistant to ASF, which "could really revolutionize how we control that disease."
"As a veterinarian, that's what excites me most about this technology is it really offers a powerful new tool to combat, particularly, diseases in livestock that are caused by viruses," he said.
U.S. pork now at competitive disadvantage
While the United States does not currently have a regulatory framework in place related to gene editing in livestock, other countries such as Canada, Brazil and Argentina do. Many other countries and regions are also making progress in that area, said Andrew Bailey, NPPC lead counsel for science and technology.
The ongoing losses due to ASF is fueling a global interest in gene editing, Bailey added.
Dr. Bradley Wolter, president of The Maschhoffs, said while he is thankful ASF has not hit North America, he stressed that gene editing be allowed to help prevent losses if the virus did reach the continent.
"ASF it's spreading rapidly across the Eastern Hemisphere and while we've been fortunate to not have it here in the Western Hemisphere, those folks experiencing loss have begun significant investments, specifically within the European Union and China, to explore ways in which gene editing could create a pig's resistance to this virus. If they're successful in editing the genome of these animals, they may be protected and spared from the impact of this virus, and consequently, they may be able to eradicate the impact from the pig population. … If they are successful in doing this, they could protect their domestic production," Wolter explained.
"At the same time, we here in the U.S. are concerned daily with the potential for our pig population to absolutely be decimated upon the entry of African swine fever here in the continental North America."
Gene editing and antibiotic use
Successful gene edits would create pigs with more disease resistance, which Kovich said would lead to reduced animal suffering and deaths, and would therefore make pig production more sustainable.
But with more disease resistance for pigs and other livestock, it could also benefit human health.
As a possible link between animal antibiotic use and antimicrobial resistance in humans continues to be a public concern, gene editing could help ease those worries, he said.
"If we can get a handle on viral disease, it will actually lead probably to a big reduction to antimicrobial use in agriculture, as well," Kovich said.
View our continuing coverage of the African swine fever outbreak.