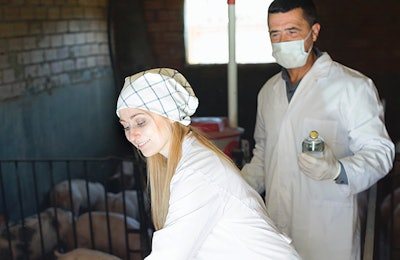 Vietnam said on Tuesday that a vaccine developed at the National University of Agriculture has shown initial success in fighting African swine fever (ASF), but experts are skeptical and say much more research is needed.
"I think we're on the right track, and we will soon have a vaccine," Agriculture Minister Nguyen Xuan Cuong said in a Vietnam News Agency report.
Vietnam Television (VTV) said the vaccine has been tested in the university's laboratory and on three farms in the country's north. VTV said that, in initial trials, 31 of 33 pigs injected with the test vaccine are still healthy after receiving two shots over a period of months, while other pigs at the farms have died from the virus.
But other experts said that is not enough testing and that much more research needs to be done to prove the vaccine's viability. Vietnam National University Director Nguyen Thi Lan agrees the vaccine still needs more research and testing on a larger scale.
"We need different phases of clinical trials, first in an experimental setting with controlled exposure, and then a field trial with natural exposure to the virus, and that cannot be a small trial," said Dirk Pfeiffer, a professor of veterinary epidemiology at the City University of Hong Kong, in a Reuters report.
USDA: Could be 8 years from vaccine
In May, U.S. Department of Agriculture Greg Ibach told members of the House Subcommittee on Livestock and Foreign Agriculture that the complex nature of the ASF virus has left the pork industry dealing with numerous unknowns, and it could be years before researchers are able to answer all their questions.
"There is a lot of research being done on all kinds of fronts," he said. "ASF has proven to be a tough disease to find a cure for or a vaccine, and to even understand completely how we can decontaminate or disinfect a premise once it becomes present in that building or facility. On the vaccine side of things, we still believe we may be as long as eight years from finding a vaccine that's effective."
In June, a Chinese company claimed to have developed a successful ASF vaccine, but those claims were quickly rejected by the country's Ministry of Agriculture.
Potential to transform Vietnam's farming patterns
According to a WATTAgNet.com report, the ASF situation in Vietnam has deteriorated to the point where a senior politician is encouraging the country's pig farmers to switch to the production of poultry or cattle. More than 2.9 million pigs – 10% of the herd – in the country have been culled as a result of the disease and losses are estimated at more than VND3.6 trillion (US$155 million).
ASF has the potential to dramatically change the pattern of farming in Vietnam, where pork used to account for 70% of the total meat production.
View our continuing coverage of the African swine fever outbreak.