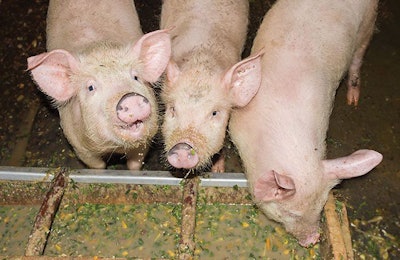 Inovio Pharmaceuticals Inc. and Plumbline Life Sciences announced on May 15 that they will be working together to create a vaccine for African swine fever (ASF). Inovio will create and test the vaccine in small animal models. "Plumbline will further test the vaccine in larger animal models, including in pig challenge models and further develop to commercialize the vaccine," a press release from Inovio explained.
Although financial arrangements were not provided in the release, it did explain that Inovio would be responsible for developing the vaccine using its technology. Plumbline is set to fund the development and commercialization of the product.
Dr. Laurent Humeau, Inovio's chief scientific officer, explained in the press release that the company is excited to use its platform to develop the vaccine and excited to have Plumbline as a partner in the mission.
Anthony K. Kim, president and CEO of Plumbline said, "We will devote our full resources to commercialize a vaccine for ASF as rapidly as possible." He added that Plumbline was also excited about the opportunity to work with Inovio.
"Inovio and Plumbline already have a licensing partnership in animal health fields and Inovio currently holds an approximately 15 percent equity ownership in Plumbline," the press release explained.
The U.S. Department of Agriculture (USDA) projected in April a decline in China of 134 million head.
Other vaccine options in the works
A possible ASF vaccine has been developed and tested in wild boars in Spain, and one of the researchers indicated it may be able to protect other pig herds.
According to a Frontiers in Veterinary Science article, University of Madrid researchers, led by Jose A. Barasona, obtained 12 wild boar piglets. Initially, nine of the wild boars were orally treated with the experimental vaccine, 104 TCID50 of Lv17/WB/Rie1 ASFV. The remaining three animals were exposed to the vaccinated animals to test vaccine transmission at different times.
The vaccine was created using serum from a wild boar hunted in Latvia in 2017, which tested positive for ASF.
The USDA Agricultural Research Service (ARS), announced recently that it intends to grant an exclusive license for an experimental African swine fever (ASF) vaccine claimed in the U.S. to Huvepharma EOOD of Sofia, Bulgaria.
"Scientists with VIDO-InterVac, in partnership with the Canadian Food Inspection Agency and partners in Kenya where African Swine Fever is present in pigs, have been working to develop vaccines to protect against the virus," mySteinbach recently reported.
View our continuing coverage of the African swine fever outbreak.