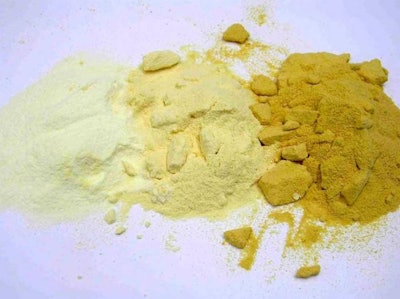 African swine fever (ASF) may be on the decline, but industry analysts fear the impact on related industries has only just begun.
Pig losses in China have caused demand for dairy-derived animal feed ingredients to plummet in recent months, according to a May report by agribusiness analysts from Rabobank, a Dutch multinational financial services firm. Chinese imports of dry whey and milk permeate began to decline in November 2018, and were down 27 percent as of March 2019. Thanks to the ongoing U.S.-Chinese trade war, imports from the U.S. have been particularly hard hit, falling 60 percent since this time last year.
And this, according to the report's authors, is probably just the beginning.
"We think the impacts from ASF are two to three years minimum, just with what it would take to replace the swine population in China," said Mary Ledman, global dairy strategist for Rabobank.
Rabobank estimates China will lose 150 to 200 million pigs to ASF this year — pigs that would have consumed 54,500 to 72,500 metric tons of lactose or lactose-equivalent in feed. On top of these losses, in July 2018, China imposed a 25 percent tariff on most dairy exports. As a result, while U.S. whey and permeate exports are down by more than half, the EU has seen a 5 percent increase. Total Chinese imports of dry whey and permeate contracted 16 percent in the first quarter of 2019, according to the Rabobank report.
The overall decrease in demand has already caused diary prices to decline around the globe. Since January, prices for whey powder are down 15-20%, according to Rabobank. Lactose prices have retreated nearly 10%, and permeate has fallen by 50 percent since February.
Although Rabobank anticipates that prices will continue to fall in the near-term, there may be a silver lining to be had 3-5 years out, Ledman said. As China rebuilds its pig herds, she believes most of the recovery will take place at large, professional operations like those in the U.S. Such operations tend to feed one kilogram of lactose per pig, compared to the average 400 grams per pig in China today.
"Longer term," she said, "when this market repopulates, they will have greater demand for lactose than what they do today."
View our continuing coverage of the African swine fever outbreak.