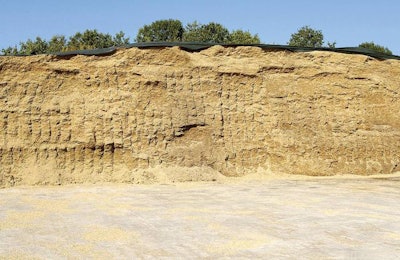 Nutritional benefits of corn silage that translate into higher milk yields lie behind the latest investment by Thailand-based agri-food company, Charoen Pokphand Foods (CP Foods).
Together with partners Charoen Pokphand Produce (CPP) and CP Meiji, CP Foods will open a corn silage plant at its field crop research center in Saraburi, which will become the firm's base for forage research.
Located in central Thailand, Saraburi province is the country's main dairy area, and CP Foods aims to improve the volume and quality of the milk produced there "to deliver the best quality milk to consumers," the firm says.
In order to be able to produce the fodder all year, corn will also be grown during what is generally seen as the "off-season."
Projected annual output of about 20,000 metric tons of corn silage is estimated to be worth approximately THB50 million (US$1.6 million).
CPP has been working for some time to develop corn that produces higher-quality silage. Lying behind this development work is the belief that corn silage is superior to other forages because it contains more starch and protein, characteristics that make it more easily digestible for the dairy cows' digestive system.
Sayan Hongsa, chief operating officer of CPP, sees this latest investment as significant progress for the company.
"The project will lift the quality of Thai dairy products to be on a par with leading countries," he said.
Key to keeping milk production steady and maintaining the health of dairy cows fed corn silage are to plan ahead and make any changes gradually, according to a technical services expert with Lallemand Animal Nutrition.
CP's other moves in US, Vietnam
In other news from CP Foods, just last month, Boston-based upmarket restaurant chain Legal Sea Foods chose to partner with the firm's Aquaculture Business Unit for the packing of premium shrimp products for distribution in North America.
Supporting national government policies on African swine fever, CP Foods' company in Vietnam, CP Vietnam Corp., has recently announced its full compliance with the latest disease control measures, and the firm is helping to raise public awareness of the disease.