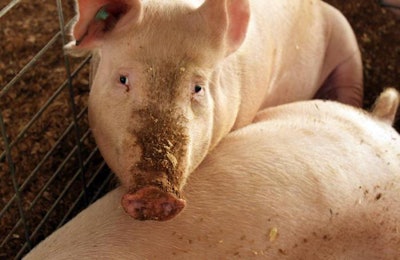 Veterinary authorities in Cambodia have reported the Southeast Asian country's first ever outbreak of African swine fever (ASF), and there have been new outbreaks in domestic pigs in China, Romania and Vietnam.
In an official report to the World Organisation for Animal Health (OIE), Cambodia's agriculture ministry has reported the detection of the ASF virus in domestic pigs for the first time in the country's history. Around 400 animals of a group of 500 pigs described as "backyard" died, and the rest of the herd has been destroyed.
Source of the infection is unknown. The outbreak occurred in Ratanakiri province, which is in the northeast of the country and borders Vietnam, where ASF cases have been detected since February.
China: 3 ASF outbreaks officially confirmed
After a brief absence, ASF has returned to domestic pigs in two regions of China. First to be officially reported to the OIE was an outbreak in a backyard herd of 91 animals in Shuangba village in Chongqing municipality in mid-March. Six of the pigs died, and the rest have been destroyed.
Also last month, the agriculture ministry informed OIE about two new ASF outbreaks in Lichuan city townships in Hubei province. Affected were a backyard herd of 83 animals and a farm with 142 pigs. Almost 80 of the animals died in these two outbreaks, and the remaining 147 have been destroyed.
Source of these latest infections in China is unknown. The ASF virus had last been detected during January of this year.
A total of 114 outbreaks of ASF affected China's pig population between August 2018 and March 29, according to the latest update from the United Nations' Food and Agriculture Organization (FAO). Cases have been recorded in 28 regions, and about 1 million animals are reported to have been culled in an effort to halt the spread of the infection.
In recent days, further outbreaks of ASF have been confirmed in 301 village pigs near Shangri-La in Yunnan province, and among a herd of 200 animals belonging to a cooperative near Urumqi in Xinjiang Uygur Autonomous Region by China's agriculture ministry.
ASF situation in China has global impacts
With China's domestic pork supply hit by ASF outbreaks since last year, some exporters are taking the opportunity to fill the gap. In the first two months of 2019, just over 40 percent of Brazilian pig meat exports — more than 40,000 metric tons — was shipped to Hong Kong or mainland China, reports the Brazilian Animal Protein Association (ABPA).
After a rumor that the Chinese market could soon reopen for the import of U.S. soybeans for the first time since the trade war between the two countries that started last May, an end to the ban may also be in sight for American pork. According to Star Tribune, pork futures prices have risen by as much as US$40 per head ahead of the possible reopening of the trade. As much as 17 percent of China's pig population is estimated to have been lost to ASF over the past year.
A viable ASF virus has been detected for the first time in Japan, reports Japan Times. The potentially infectious form was found in sausages brought into the country, apparently as souvenirs, by two passengers from China during January.
CP Vietnam supports ASF control measures
Part of Thailand-based Charoen Pokphand Foods PCL, CP Vietnam Corp., has confirmed its support for and compliance with the measures taken by the Hanoi government to control the spread of ASF. These include a ban on the transport of pigs within a three-kilometer radius of an outbreak, testing of animals before movements are allowed, and disinfection of all vehicles carrying the livestock or feed.
The firm has also joined a Vietnamese government initiative to raise awareness of the disease among the public, while stressing that ASF poses no food safety risk.
Vietnam's officially reported count of ASF outbreaks has risen to 211, with 10,420 domestic pigs lost to the disease through mortality or destruction since the first cases in early February 2019.
Latest to be reported to the OIE were one outbreak in each of the provinces of Bac Giang (in the Northeast region), Vinh Phuc (Red River Delta), and Quang Tri (North Central Coast). All of the 152 animals affected in these village herds were reported to have been humanely destroyed.
Between the first confirmed case on February 19 and March 29, there have been 556 ASF outbreaks in 23 provinces/cities of Vietnam with more than 89,600 pigs culled, according to the latest FAO report.
Europe: ASF outbreaks in Romania, wild boar
Romania's animal health agency has reported to the OIE a further six ASF outbreaks during mid-March, involving 83 domestic pigs in backyard herds in four counties in the south and east of the country. All of the affected animals have been destroyed.
Ukrainian authorities appear to have successfully managed to control ASF after carcasses of infected pigs were found dumped at two locations during the month of February. No further cases have emerged in the meantime, and the State Service on Food Safety has declared to the OIE that the disease situation has been "resolved."
The ASF virus continues to circulate among the wild boar populations of several European countries. Based on reports received by the OIE over the past two weeks, worst to be affected has been Poland (with 72 outbreaks), followed by Belgium (45), Romania (13), Bulgaria (seven), and Latvia (five). All these cases were in areas where previous cases had been detected. The virus has also been detected in three wild boar in a natural park in Zaporozhe oblast in Ukraine, and in an individual animal in Krasnodar kray in Russia.
View our continuing coverage of the African swine fever outbreak.