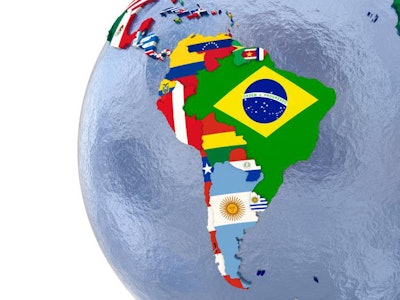 Cargill Inc. Chairman and CEO David MacLennan said the company could invest up to $1 billion in Latin America over the next five years, according to a Reuters report.
MacLennan told Reuters in an interview that Argentina, Brazil, Colombia and Chile are favorable for investment, and that the company would maintain operations in Venezuela amid the country's economic and political crisis.
In November 2018, Cargill acquired Colombian-based Campollo, one of the country's leading producers of chicken and protein products. In June 2017, Cargill acquired Colombia's Pollos El Bucanero.
In February, Cargill advanced its commitment to protect forests and promote rural agricultural development across its supply chains, with the launch of a South America Sustainable Soy Policy, a Human Rights Commitment and an updated Forest Policy. The company said the policies reinforce its intent to make the necessary changes to achieve a deforestation-free supply chain.
"We don't have exact figures at this time, but I will say that if we have $200 (million) or $300 million in Colombia, in this whole area in five years we could easily reach $1 billion," MacLennan said during a visit to Bogota.
According to WATTAgNet.com, Cargill is the world's third largest animal feed producer and the U.S.'s largest, as well at the No. 10 leading poultry producer in North America.
Third quarter results
For its fiscal 2019 third quarter ending February 28, Cargill reported net earnings of $566 million, up 14 percent from $495 million in the year-ago period. For the nine-month period, net earnings declined 3 percent to $2.33 billion. Third-quarter revenues decreased 4 percent to $26.9 billion, bringing the year-to-date figure to $83.5 billion.
Adjusted operating earnings were $604 million, up 8 percent from the $559 million earned last year. This brought earnings for the first nine months to $2.34 billion, a 2 percent decrease from the prior year.
"Disruptions and uncertainty in the global business environment continued to present challenges during the quarter, but our teams captured greater efficiencies across the company," MacLennan said in the earnings report. "We remain focused on our growth objectives. To achieve them, we are innovating what matters for our customers so they can win with consumers in local markets."
Animal Nutrition & Protein was the largest contributor to Cargill's adjusted operating earnings. Within the segment, earnings in North American protein exceeded the year-ago period, boosted by continued strong domestic and export demand for beef as well as consumer demand for egg products.
Higher production costs at Cargill's poultry processing joint ventures in the Philippines and U.K. contributed to a decline in global poultry results. Two recently acquired value-added chicken processors – Campollo in Colombia and Konspol in Poland – both got off to a good start as part of Cargill. Increased sales volumes for salmon feeds in the North Sea region and functional feeds in North America improved earnings in aqua nutrition, but animal nutrition results in total trailed the prior year due in part to the outbreak of African swine fever in China and other countries, as well as unfavorable dairy economics in the U.S.