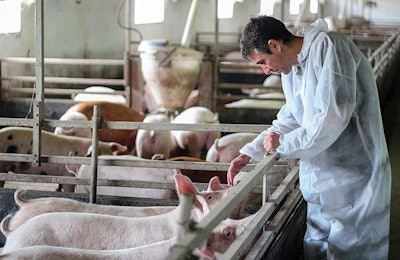 African swine fever (ASF) has spread across China and parts of Europe since August. It has not affected any farms in the U.S., but American veterinarians and pig producers should be aware of the symptoms of the disease and how to spot it in their herd, as well as how to prevent the disease's spread to the U.S.
The disease does not affect humans, but it spreads quickly among pigs and is particularly lethal to them, with death usually occurring in seven to 10 days. Dr. Tom Burkgren, executive director of the American Association of Swine Veterinarians, said in an American Veterinary Medical Association report that veterinarians should advise pig farmers to watch for high death and illness rates, as identifying the first case quickly could be crucial.
There is no cure and no vaccine for ASF. While the disease can cause sudden death with few signs, there are some symptoms to watch for, according to the World Organisation for Animal Health (OIE).
Symptoms of ASF
High fever
Vomiting
Diarrhea
Constipation
Anorexia
Skin hemorrhages
Abortion
Lost coordination
Leukopenia
Thrombocytopenia
Red spots on ear tips, tail and lower legs or hams
Chronic infections with weight loss
Low fever
Coughing
Skin necrosis and ulcers
Arthritis
Joint swelling
How to prevent spread to US
The U.S. has no active surveillance program for ASF, like it does for other livestock diseases. The U.S. Department of Agriculture (USDA) Animal and Plant Health Inspection Service (APHIS) does, however, have a plan for eradicating the disease, should it reach the U.S., including depopulating affected farms. The USDA plans to work with the U.S. pork industry to develop and host an ASF-specific exercise in 2019 to test response functions necessary to respond to and contain an ASF outbreak.
In September, USDA APHIS said it does not know or plan to test how likely it is for ASF to reach the U.S. through contaminated animal feed, which is a potential transmitter of the disease. The virus can survive low temperatures, fluctuations in pH, and remain viable for long periods in tissues and bodily fluids. Incubation time is believed to be three to 15 days. Research has shown that the ASF virus has the potential to survive in feed ingredients through trans-Atlantic shipping from Europe to the U.S., for example, or a longer route from China to the U.S. For this reason, feed producers should know where the ingredients for their products originate, as many ingredients come from China or Europe.
Veterinarians also can improve farm biosecurity by limiting farm visits and urging their clients to do the same.
View our continuing coverage of the African swine fever outbreak.