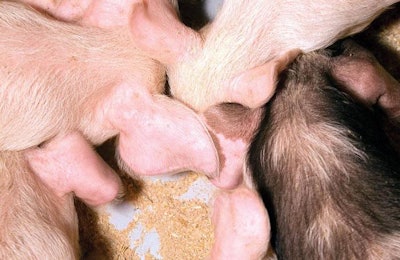 For the first time since 2013, one of China's top pig farmers is experiencing a loss due to increasing production costs.
Beijing Dabeinong Technology recently said a big portion of its newly expanded pig farming capacity is idle. The company blamed soft second-quarter results on high feed costs, including soymeal.
Soymeal prices are a challenge as the trade war between the U.S. and China continues to hurt producers in both countries.
The company produces hogs and feed. Reuters reported that the company's feed business — its biggest revenue generator — saw its net profit decline in the first half due to rising costs of feed materials.
Some countries are looking to capitalize on the ongoing spat between the U.S. and China. For instance, in early August there were reports that Argentina's top agriculture ministry official had reported that the country would be sending substantial amounts of soymeal to China after the next May harvest.
The high prices have Chinese livestock producers looking for alternative options to feeding soymeal, and Beijing Dabeinong Technology may need to find one of those alternatives. In the second quarter, the company's hog sector had a pre-tax loss of 76.9 million yuan (US$11.2 million), according to Reuters calculations based on its first-half results.
African swine fever (ASF) has also been reported in some parts of China, creating concerns about demand for Chinese pork. ASF has already forced WH Group Ltd. to shut down a major slaughterhouse for six weeks.
Beijing Dabeinong Technology told Reuters ASF is a concern to its already substantial revenue generating concerns.