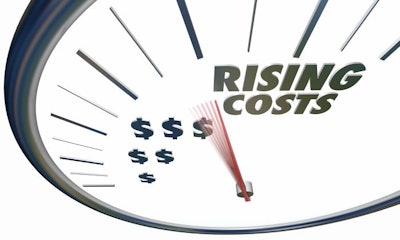 Company says move is the result of 'unprecedented cost escalation' on raw materials, packaging and logistics
Danisco Animal Nutrition, a business of IFF's Health & Biosciences division, has announced a global price increase across its entire product portfolio, effective immediately or as contracts allow.
This move is the result of unprecedented cost escalation on raw materials, packaging and logistics. Therefore, the company will increase prices by up to 10%, depending on the product grade and geography.
Danisco said its Animal Nutrition business has historically been able to offset increases in input costs through efficiency gains. Unfortunately, the COVID-19 pandemic has had a sustained and lasting unfavorable impact on input costs around the world.
"In the case of transportation, for example, our industry is facing dramatic price increases for air and ocean freight. At the same time, prices of key raw materials and packaging have reached historic highs. Regrettably, we cannot continue to absorb these additional costs and maintain our pace of product supply in the medium to long term," the company said in a press release.
"By taking this difficult – yet necessary – decision of introducing price increases now, we provide ability for our customers to plan while allowing us to maintain our position as trusted partner and supplier of innovative feed additives and services that continue to deliver value, efficiency and that optimize grower productivity," said Pauel Fokin, vice president of Danisco Animal Nutrition, IFF.
Danisco Animal Nutrition has a comprehensive portfolio of feed enzymes, betaine, phytogenics and probiotics. Through the lens of nutribiosis, IFF invests in science and innovation to help producers improve performance, increase livability and support welfare in the face of increasing pressure to reduce or remove antibiotics from production systems.