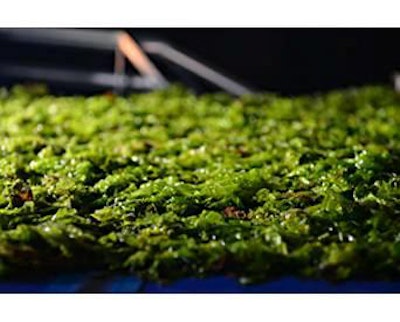 The Brittany region in northwestern France hosts an especially rich algae coastal ecosystem, one that cultivates hundreds of varieties of macro and micro algae. Seizing the bounty of this resource, feed additive manufacturer Olmix, headquartered in Brehan, France, recently opened the doors to "the world's first" algae bio-refinery.
In conjunction with the ULVANS project, a research and industry consortium aimed at creating a channel for algae applications and processing in Brittany, Olmix's new plant is located in Plouénan, France, near where the region's algae is harvested.
With animal welfare regulations, movement away from antibiotics and chemical inputs, the company's goal is to face these challenges and meet the demand for sustainable production through the testing and implement of new solutions, like algae extract-based natural additives.
Rich in minerals, polysaccharides and proteins, the relevance of seaweeds in numerous biological mechanisms, such as immune response, is a proven tool in reducing the amount of antibiotics in animal feed.
About algae processing
Olmix's new bio-refinery conditions and processes green, brown and red algae that is harvested by boat and delivered by truck to its receiving system. The fresh product is then delivered to the "humid room" where the processing takes place. Moving along a conveyor system, the algae are washed and ground.
Next, in the "dry hall," pre-processed algae will have its active molecules extracted by enzymatic hydrolysis, which releases the active ingredients without a solvent. During this stage, the algae is purified and dried using a 180m2 dryer running at a temperature ranging from 40 to 75 degrees C depending on the moisture-level desired in the finished product.
Further down the manufacturing chain, processed Montmorillion's clay is added to optimize the algae's interaction in the animal's digestive tract.
For more information, visit www.olmix.com.