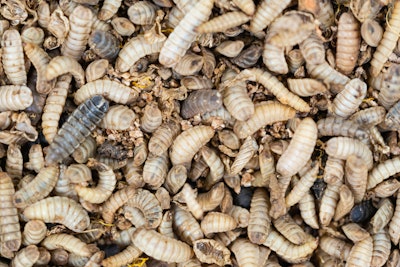 Artur GOLBERT | iStock.com
The south Indian state of Kerala is not unique in facing a crisis with organic waste. However, one institute in Kerala has recently reached a number of agreements with different partners to alleviate the challenges, particularly with the involvement of the aquaculture sector.
Production of fish feeds from organic wastes is the theme of a memorandum of understanding signed at the end of August, reported The Hindu.
A research program forms the center of the agreement between the Kerala University of Fisheries and Ocean Studies (KUFOS) and Bhima Environment Technology (BET). The firm processes organic waste from slaughterhouses in the state's capital city, Thiruvananthapuram.
Basis of the new collaboration is a program at KUFOS producing insect meal from organic waste, according to The Hindu Business Line. This uses black soldier fly (BSF) larvae as a high-quality protein ingredient for fish feeds.
After separation of the waste, it is expected that BET will produce 4 metric tons (mt) of BSF larvae daily.
KUFOS forms more partnerships for aquaculture feed development
Exploring opportunities to produce protein for fish feeds from organic waste is the theme of a second recent project at KUFOS.
Last month, Times of India reported that the collaboration is with organic waste management company, Amala Eco Clean Private Ltd. Using BSF larvae, this project also aims to produce a protein-rich ingredient suitable for diets for farmed aquaculture species.
If the initial project is a success, the process will be rolled out to other locations in Kerala.
According to KUFOS Vice Chancellor T. Pradeep Kumar, this could help to solve the state's current organic waste management crisis.
Previously, the University signed an agreement with a U.S.-based biotech firm on fish meal testing.
Working together with Meridian Biotech, the partners aim to produce and quality-test single-cell proteins (SCP) as a more environmentally sustainable feed ingredient for India's farmed shrimp.
Diets for local shellfish farming are based on locally produced fish meal, reported New Indian Express at the end of July. Each kilo of fish meal requires the catching of 5 kilograms of young fish. As a result of harvesting these juvenile fish, some species are being overfished, and marine biodiversity is under threat.
Furthermore, not only do SCPs represent an opportunity to reduce the cost of feeds for Kerala's aquaculture farmers, the new materials are also expected to improve the quality of Indian shrimp.
Kumar said they will contribute to a reduction in the rejection rate of Indian shrimp by potentially valuable export markets.
University offers new courses on adding value to seafood
Recently, KUFOS has also announced a new partnership leading to the introduction of two courses on value addition to seafood.
According to The Hindu Business Line, these will cover technologies for food packaging and canning.
Partner in these educational programs is the National Programme on Technology Enhanced Learning, with coordination from the Indian Institute of Technology in Madras.
Other developments on insect protein in feeds
In other news relating to insect protein, Swiss technology group Bühler and NRGene Technologies Ltd., an Israeli genomics company, have recently formed a strategic collaboration in the field of BSF genetics and processing.
This year, it was reported from the West Indies that preparations were in place to establish an insect bioreactor pilot plant facility. As in India, this also uses BSF larvae as a protein source for poultry as well as aquaculture species.
In Spain, biotech company Tebrio has announced it is building the world's largest insect protein plant. Producing protein from mealworms, its annual capacity is expected to be 100,000 metric tons per year.