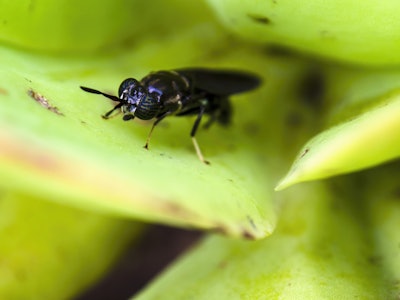 paulrommer | Fotolia.com
Swiss technology group Bühler and NRGene Technologies Ltd., an Israeli genomics company, have formed a strategic collaboration in the field of black soldier fly (BSF) genetics and processing. The two companies are combining their expertise to provide solutions and services to this rapidly evolving industry.
The partnership between Bühler and NRGene offers BSF producers a comprehensive solution that incorporates Bühler's high-end equipment and engineering capabilities and NRGene's novel genetics and artificial intelligence (AI)-based genomics tools. Production equipment and tailor-made high-performance BSF strains are integrated into a customized solution that ensures cost-effective, industrial-scale production from the start.
"The insect industry is still optimizing its production costs. Advances in insect genetics are key for achieving this. The benefit of genetics is already demonstrated in traditional agriculture. Combining the tailored insect strains with our advanced industrial technology will bring a step change in the production of insects," said Andreas Baumann, head of market segment insect technology at Bühler. "The overall solution will result in a high yield of superior products while ensuring an efficient use of raw materials, land, water and energy. This makes the investment in insect production more attractive as it gives owners a crucial competitive advantage in the marketplace."
"There is a growing demand for meat to feed carnivorous pets and farm animals. It is our belief that to realize BSF's huge potential as an alternative sustainable protein source used for feed, it is essential to integrate the expertise of various disciplines into this new industry, from genetics to engineering. We are excited to partner with Bühler as we move towards a cost-efficient industry scale-up," said Dr. Gil Ronen, NRGene's CEO and founder.
NRGene will establish a North American Insect Center at its Canadian subsidiary in Saskatchewan. Bühler will equip the Insect Center with insect growth chambers with controlled environments and sensors that can simulate industrial conditions and provide process insights. The Center will serve as a testing and demonstration facility for both companies' customers, enabling them to evaluate the performance of chosen BSF variety, operational parameters and practices, in order to ensure efficient industrial-scale insect production.