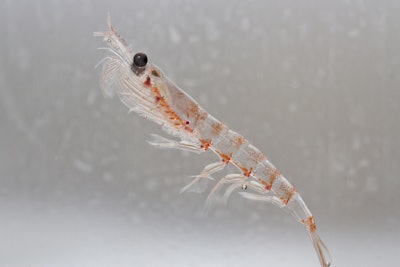 Tarpan 74 | BigStock.com
Fish meal is no longer the dominant aquafeed ingredient it once was, so the fourth round of the F3 Future of Fish Feed is bringing attention to a new marine ingredient, krill, and quickly attracting new first-time contestants.
Krill remains a niche ingredient, and today's levels of fishing present little concern from an ecological perspective, according to Kevin Fitzsimmons, a judge for the F3 contest and a professor of environmental sciences at the University of Arizona. But F3 would like to keep it that way in the face of a growing push to harvest more krill from the Antarctic for use as a palatant in aquafeed.
F3 was already looking to run a palatant design contest before it landed on the krill concept for this latest round of the marine-free ingredient competition, which launched on June 14 and represents the contest's fourth iteration. Previous F3 challenges have focused on promoting the sale of fishmeal alternatives, but fishmeal is no longer the dominant ingredient it once was. Soy, Fitzsimmons said, now represents the largest component of most aquafeed diets by a percentage basis.
At the same time, krill has emerged as a premium-grade palatant used to entice fish to eat more of this soy-based feed. This has fishers setting their sites on the Antarctic as a potential gold mine — one located in international waters with limited governance and few restrictions on fishing.
"This is the main food for whales, the food base for seabirds, and if there is not going to be strong regulation, we will overharvest [krill] just like we have overharvested most of the forage fishes ... and we will have a crash of the krill population and meanwhile the whales are going to starve," Fitzsimmons said.
So this year's contestants will be judged against krill in a feed trial to determine how they stack up to the emerging industry standard for attracting fish to feed. After verifying the contestant's entries are free of marine ingredients, F3 will feed each entry to Atlantic salmon to rate each product's performance with respect to growth performance, feed conversion and survivability. Registration is open through August 31. The winner receives a $100,000 grand prize, but Vincent Verhoestraete, sales director for insect producer and biotech firm Entobel, said the main hope is that competing in — and potentially winning — the contest will draw attention to the use of insect meal as a palatant.
Verhoestraete said multiple trials by the company suggest that insect meal increases feed intake and, by extension, growth performance while mitigating water pollution risks. And while the insect industry as a whole is still working on being cost-efficient against the use of premium fish meals, Verhoestraete believes they can easily beat krill on price.
Entobel, which uses agricultural plant-based byproducts to raise black soldier flies, is building its second factory in southern Vietnam en route to a goal of producing 10,000 metric tons of insect meal annually.
"The whole idea and reason why we created this company and began producing insect meal is because we were also worried about the biodiversity losses in the oceans," he said. "We want to play our part and we believe that the business model for using low-value byproducts and upcycling them into a premium protein source makes a lot of sense."