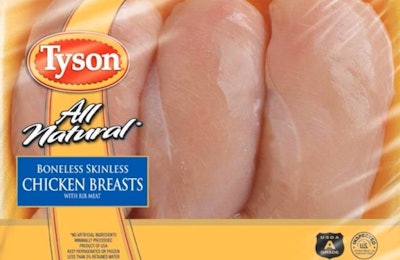 Tyson Foods
Tyson Foods will switch from no antibiotics ever (NAE) to no antibiotics important to human medicine (NAIHM) production for its Tyson-branded chicken.
The transition will be made by the end of the 2023 calendar year, the company said in a statement emailed to WATT Global Media.
The switch to an NAIHM type of production is similar to a transition Tyson Foods had nearly completed before moving to an NAE production model for the Tyson branded chicken products.
Tyson Foods this week said the decision to move to NAIHM production was based on "sound science and an evolving understanding of the best practices impacting our customers, consumers and the animals in our care."
"While roughly half of the industry uses some form of antibiotic in producing chicken, NAIHM is a heightened standard that has been recognized by the USDA for decades and qualified through program documentation showing no antibiotics important to human health have been used," the company stated.
"This transition continues to support our approach to responsible stewardship and the decision was made with the best interest of people and animals in mind."
This decision comes six years after the company announced it would eliminate the use of all antibiotics from its chicken carrying the Tyson brand sold at retail. That announcement was made during the Consumer Analyst Group of New York (CAGNY) conference.
At that time, then-Tyson Foods CEO Noel White said they would still use antibiotics to treat chickens that become ill, but that those chickens would be used for chicken products not carrying the Tyson brand.
Before that announcement to switch to NAE production was made, Tyson Foods was already implementing a move to a NAIHM type of production, which the company had initially announced in 2015.
A recent report published by the U.S. Poultry & Egg Association (USPOULTRY) revealed that antibiotic usage in the U.S. poultry industry decreased significantly in the past 10 years, but mortality rates increased.
Headquartered in Springdale, Arkansas, Tyson Foods is the largest broiler producer in the United States, having processed 206.68 million pounds of ready-to-cook chicken on a weekly basis during the past year.