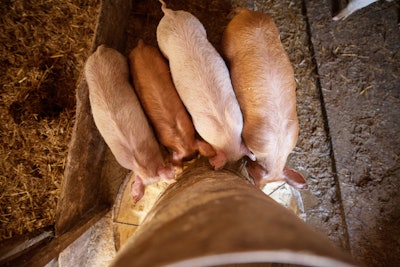 Dusan Petkovic | BigStock.com
Researchers at DSM Animal Nutrition and Health have identified an enzyme that specifically targets and degrades ochratoxin A in animal's gastrointestinal tract, according to a paper from the Journal of Animal Science.
The enzyme, named OTA amidohydrolase, reduced the absorption of ochratoxin A by 59% in piglet feeding trial performed by DSM. While the company has developed enzymes to break down other mycotoxins, including fumonisin and zearalenone, this is the first it has found to be effective against ochratoxin A, according to Shreenath Prasad, innovation project director at DSM-Firmenich. The company believes it could be the first enzyme of its kind.
The enzyme is not yet commercially available pending further study. Prasad said OTA amidohydrolase effectively mitigates the absorption of ochratoxin A in other species as well as pigs, according to unpublished feeding trial data.
DSM-Firmenich prefers enzymes for the treatment of mycotoxins thanks to their specificity, Prasad said. Enzymes only act on the specific molecule they were designed for, reducing the potential for side effects or interactions with other ingredients. Their potential use in precision applications is especially interesting, Prasad said, because feed manufacturers could add appropriate doses of enzymes in response to data about mycotoxin contamination in particular feed ingredients.
"The future is all about the precision, the precise mode of action," he said.
The specificity also means this particular enzyme will only work on ochratoxin A and will have no effect on other mycotoxins, Prasad said. However, it's not intended for use on its own. DSM-Firmenich plans to include it in a complete mycotoxin risk management solution called Mycofix to target a swath of common mycotoxins.
And the company doesn't plan to stop with ochratoxin A. It has research teams working to identify and develop enzymes that could work on all major mycotoxins in the animal gastrointestinal tract.
The process for developing each of these enzymes can be somewhat intensive, Prasad said — in many cases, the researchers have no leads and must start from scratch using different approaches including classical and in silico modeling to identify possible enzymes for each target mycotoxin. But while he could not speak in detail about the progress on solutions for other mycotoxins, he indicated that additional solutions are in various stages of the company's development pipeline.