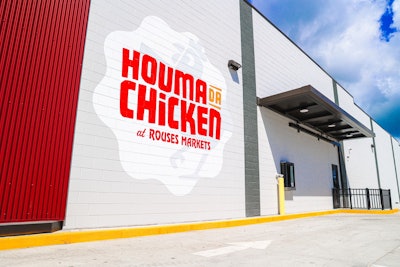 Rouses Supermarkets | Facebook
Rouses Supermarkets opened its first grocery store featuring a drive thru selling fried chicken.
The concept was first inspired by crawfish.
"It all kind of came about because of crawfish," CEO Donny Rouse told WGB. "We sell a lot of crawfish in Louisiana, and we were wanting to do a drive thru for customers during crawfish season so they didn't have to walk in the store to get all the fixings."
The Houma da Chicken drive thru features double-battered fried chicken made fresh throughout the day.
Rouses also looked to chicken foodservice brands Chick-fil-A and Raising Cane's when it came to training employees, he added, noting that they "do it the best."
If the drive thru at the Houma, Louisiana, location is successful, additional stores could see remodels.
"The planning and execution has been pretty easy for us because our stores rely heavily on fresh food," he explained. "We do a lot of deli business and have a large seating area already. For us to add a drive-thru, we just had to train those team members."
Rouses is a family-owned company with 55 grocery stores located in Louisiana, Alabama and Mississippi.
Foodservice and retail continue to blend
The continued blending of foodservice and retail is one of the 12 sticky chicken consumption trends presented by Kevin Ryan, CEO, Malachite Strategy and Research, at the 2023 Chicken Marketing Summit.
Examples of this trend include restaurants that turned into product test kitchens during COVID-19 or the growing number of foodservice brands launching retail products.
Attend the 2024 Chicken Marketing Summit
The 2024 Chicken Marketing Summit will be held at the Renaissance Birmingham Ross Bridge Golf Resort & Spa in Birmingham, Alabama, on July 29-31, 2024.
Serving a unique cross section of the chicken supply chain, the Chicken Marketing Summit explores issues and trends in food marketing and consumer chicken consumption patterns and purchasing behavior.
Registration will open in early 2024.
For more information, visit: www.wattglobalmedia.com/chickenmarketingsummit/