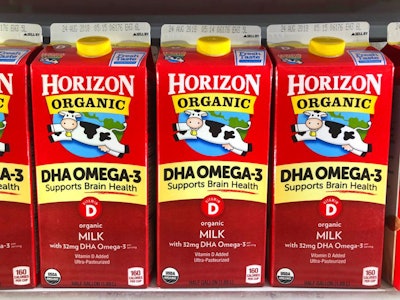 World's largest organic dairy brand implements multiple methods to reduce emissions
Horizon Organic wants to become carbon positive – removing more carbon than it emits – by 2025.
Horizon is the world's largest organic dairy brand certified by the U.S. Department of Agriculture (USDA), and its parent company Danone North America is the world's largest certified B Corporation, which are companies committed to balancing profit and purpose. Now, Horizon aims to become the first national U.S. dairy brand to become carbon positive across its entire supply chain.
To accomplish this goal, Horizon plans to invest $15 million in grants, and low- and no-cost loans over the next 10 years, for its more than 600 U.S. farmers to provide training, tools and technology.
"This includes helping our farmer partners implement breakthrough regenerative soil practices, cow feed and diet management programs, and energy efficiency," Danone North America CEO Mariano Lozano said in a statement. "These steps and more will play a significant role in helping Horizon Organic become carbon positive."
Methods for reducing emissions
While the brand is still exploring what it calls "feed enhancements and adjustments" to reduce methane emissions by cows, it has not made any decisions regarding changes in cows' diets. However, Deanna Bratter, senior director, public benefit and sustainable development, Danone North America, told Feed Strategy that the brand "remains dedicated to organic practices and certification."
In addition to feed and diet management programs, Horizon will institute regenerative soil practices and energy efficiency programs.
"Horizon is working to make improvements in manure management, which helps to reduce methane emissions in the atmosphere with its high global warming potential," Bratter said in an email.
Other measures include what the company calls "optimized transportation and distribution," as well as renewables, emission reductions for its manufacturing facilities and packaging improvements. The brand will also co-create new projects to generate carbon offsets and removals, such as prairie and forest restoration.
Reaching an ambitious goal
Bratter acknowledged that the brand's carbon-positive goal is ambitious, but she remains confident it can be reached.
"Climate change is the challenge of our lifetime, and our business, and we recognize the significant work that is necessary to reach this ambitious goal," she said. "We are confident in our ambition and have already begun the journey toward carbon positive. Horizon Organic has nearly completed a full life-cycle assessment of the brand, which will guide our milestones toward the carbon positive achievement."
Bratter said the brand has partnered with EcoPractices – a third-party verification and validation platform that helps supply chain partners meet their sustainability goals – to conduct an in-depth sustainability analysis. It has also begun the process to certify as carbon neutral with U.K.-based The Carbon Trust, an independent organization that helps businesses, governments and the private sector become more sustainable.
"Upon certification, in true Horizon Organic spirit, we will pioneer beyond neutral to carbon positive," Bratter said.
And, she added, Horizon is "in year two of a five-year soil health study. We are tracking tillage, cover crops, crop rotation, manure management and more."
Once it has gathered that information, Bratter said the company will share its findings.
"Our plan is to share the learnings from both our life-cycle assessment and soil health study with the industry and the public so that we can support others along the journey," she said.
Long-term climate solutions
The Food and Agriculture Organization of the United Nations (FAO) says 2 billion of the estimated 50 billion tons of greenhouse gases (GHG) emitted annually come from cattle; according to the U.S. Environmental Protection Agency (EPA), U.S. agriculture contributes approximately 10% of total GHG. But Bratter said Horizon's goal will improve the environment while remaining committed to organic farming.
"We believe Horizon Organic's ambition to become carbon positive will improve our impact on the environment," she said. "We humbly feel we can contribute sizeable scale, new ideas and meaningful impact to issues facing the food world and our planet. Dairy can be part of the solution – not the problem – when it comes to reducing negative impacts on the environment. We believe in organic farming, and that taking a holistic approach with nature-based solutions and working with the land is the right path forward."
While Horizon's goal has a target date of 2025, it looks at it as a long-term solution.
"Horizon is committed to long-term climate solutions," Bratter said. "We aim to drive a meaningful transition to agricultural practices that sustain and improve our environment and ensure the resiliency of our natural resources for the future. We do this not just for our business, but for our farmers, our suppliers, the planet and the communities that count on us for nutritious and delicious dairy. … We are confident in our commitment because the journey toward carbon positive is happening in partnership with our farmers."