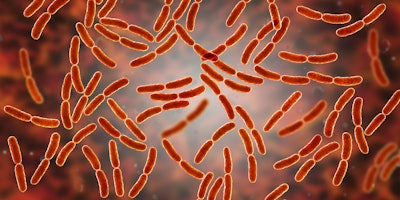 Tyrannosaurus | Bigstock.com
BiomEdit, an emerging animal health biotechnology company, has received a US$4.5 million grant from the Bill & Melinda Gates Foundation to accelerate research and development of a portfolio of novel microbiome-based solutions to reduce methane emissions that also enhance feed efficiency for beef and dairy cattle.
This innovation has the potential to significantly impact agricultural greenhouse gas (GHG) emissions and enhance the livelihood of small-scale producers and pastoralists in sub-Saharan Africa and South Asia, where cattle are a vital source of income.
As the No. 1 agricultural source of GHGs worldwide, ruminants like cattle produce methane as part of their normal digestive process. Methane is a major contributor to climate change and each year a single cow alone will belch about 220 pounds of methane. According to the International Livestock Research Institute (ILRI), livestock contribute up to 80% of developing countries' agricultural gross domestic product and they serve as an important source of nutrition and livelihood for small-scale producers and pastoral communities. Finding a way to reduce methane emissions in native cattle in their local habitat while increasing productivity is key to environmental and economic sustainability, particularly for Africa and South Asia.
BiomEdit's solutions will target the rumen microbiome, which is the community of microorganisms that live in a cow's digestive tract. The rumen microbiome plays a key role in digestion, with specific microorganisms responsible for methane production. The company will take a multi-pronged approach to leverage natural and synthetic probiotics and bioactives that robustly reduce methane emissions and increase cattle performance by inhibiting energy losses through methanogenesis and enhancing production of volatile fatty acids (VFA, the main source of energy from the rumen). Pathways to administer the innovations could take the form of feed additives, feed supplements, veterinary biologics, or pharmaceuticals.
"To make a meaningful impact on climate change, there must be a simultaneous benefit of reducing methane emission in cattle plus redirecting the spare energy, which would otherwise go to creating methane, to increasing feed efficiency so everyone can benefit from nutritious meat and milk – no matter where they are in the world. The answer is found through the microbiome and synthetic biology," said Aaron Schacht, CEO of BiomEdit. "We are grateful for the Bill & Melinda Gates Foundation's belief in our methane reduction R&D program, and excited to partner with them to enable both large- and small-scale producers to benefit from the innovations."
A range of strategies for methane reduction are in development or on the market, however, direct inhibition of methanogens has shown the largest effect on mitigating enteric methane emissions.
An issue with many products currently available is farmers must fund an additional input to gain methane emission reduction and feed efficiency, so they do not often see a sufficient return on investment. Developing methane mitigation products that can improve production efficiency and pay for themselves will make this approach financially feasible for farmers, encouraging them to participate.