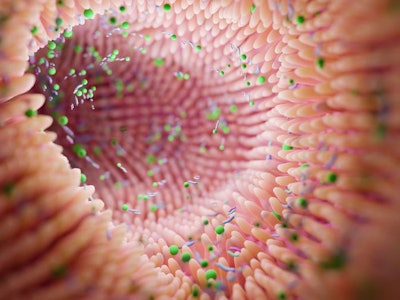 What is the microbiome and why is everyone in animal health and nutrition talking about it?
Have you heard anyone say the word "microbiome" lately? I wouldn't be surprised if you did. The topic of the gut microbiome in animal health and nutrition has certainly become popular.
I attended the International Production & Processing Expo (IPPE) in Atlanta in late January, and every time I saw someone give a talk on the microbiome, it was standing room only.
In the Feed TECHTalk booth, sponsored by Feed Strategy, Enrique Montiel of Anitox Corp. talked about the role of the microbiome in poultry health and ways to promote a healthy microbiota in chickens, and Steve Lerner of Chr. Hansen discussed what he called the gut-brain-microbiome axis and how the microbiome can affect the central nervous system and how that relates to animal welfare. Separately, I spoke with Nienke de Groot, strategic marketing director at Trouw Nutrition, who mentioned water's role in the health of an animal's microbiome – it's not just about feed – and said Trouw is looking into ways to get more beneficial bacteria to flourish in the intestine of the animal.
Already this year, Nutreco and ADM have made investments in microbiome research, and in a recent Feed Strategy podcast, Land O'Lakes Purina swine nutritionist Erin Bryan told me her company is also doing research into not only the gut microbiome, but the nasal microbiome as well.
So what is the microbiome and why should you care about it?
The microbiome is the collection of all the microbes, including bacteria, fungi, viruses and their genes, that live in and on the body. These microbes can be helpful or harmful to the health of an animal or person.
The gut microbiome can be altered – and improved – with certain feed ingredients and additives, making this area of research and development potentially very profitable for players in the feed industry. That's because a healthy microbiome means a healthy animal, and a healthy animal is a productive one.
It will be interesting to watch the progress the industry makes in this field in the future.
Want to learn more about the microbiome? Attend the Feed Strategy Seminar, co-located with VIV Asia on March 9.