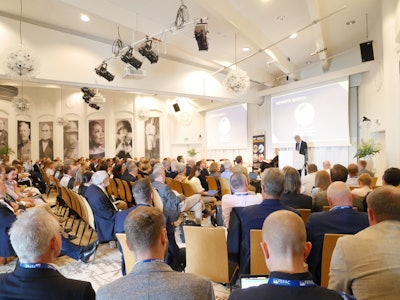 Courtesy FEFAC
Sustainability has become a hot topic on the agenda of most international and local livestock and animal feed conferences. While the definitions and urgency of sustainability might vary across regions around the world, it all comes down to re-evaluating livestock production systems in terms of inputs and efficiency.
Circularity (or a circular bioeconomy) is an increasingly used term in the EU to explain a practical implementation and tangible approach of sustainability. Circularity looks at better ways to integrate crops (feed) and livestock or fish and looking at all the side streams we can think of, and how and where we can re-use them. In other words, reduce resource consumption and emissions to the environment by closing the loop of materials and substances.
If we can do this successfully, we have a better chance to meet the ambitious goals laid out in the EU Green Deal: reduce greenhouse gas (GHG) emissions by at least 55%, reduce antimicrobials in livestock production and aquaculture by 50% and lower nutrient losses by 50%, among others — all by 2030.
Role for feed producers
Animal feed is one of the largest contributors to the carbon impact of animal farming.
What a cow eats is driving 33% of the GHG emissions (measured in CO2 equivalents) coming from a dairy farm. For poultry meat, up to 78% of the GHG emissions is related to feed. For pigs this is around 63%. According to figures by BioMar, for seafood, feed ingredients represent around 80% of the emissions.
These figures mean that European feed manufacturers can — and should — play a significant role to a more sustainable EU food production chain. Life cycle assessment (LCA) tools have peaked over the past couple of years and provide accurate data to help feed companies get a better insight on the carbon impact for different types of feed ingredients, based on source, land use, production, processing, transportation and more. LCA confirms that circular feed ingredients — such as byproducts or new protein sources produced locally and in a more efficient way — often fall in the low-emission group.
Circular feed and its role to meet the EU sustainability targets was intensively discussed at the 30th edition of the annual congress of the European Feed Manufacturers' Federation (FEFAC), held in June in Sweden.
Critical view needed
Daniela Battaglia, livestock production officer at the Food and Agriculture Organization of the United Nations (FAO), addressed in her keynote: "The feed sector contributes to the circularity of food systems, through the recovery/valorization of nutrients from other processes in the agrifood chain which could otherwise be lost (byproducts, food waste/former foodstuffs, etc). Using innovative technologies and advanced and alternative ingredients as direct and indirect sources of feed can further reduce the feed-food-fuel competition and the livestock/feed sectors' contribution to GHG emissions as well as alleviate pressure on the world's natural resources."
A perfect example of circularity in animal feed is the use of side streams from the food industry. It is estimated that 5 million tons of former foodstuff products are mixed into animal feed in the EU, partially replacing cereal grains, oils and sugars in the rations. Although this is quite a big number, the consensus at the conference was that this volume should — and can – be further increased in the coming years, not only to make the food chain more sustainable, circular and efficient, but also to decrease feed costs for farmers.
Former FEFAC President Asbjørn Børsting said a critical review is needed regarding bottlenecks in the EU regulatory framework that restrict circularity in EU food systems through animal nutrition to allow for further optimization of the circular economy's potential.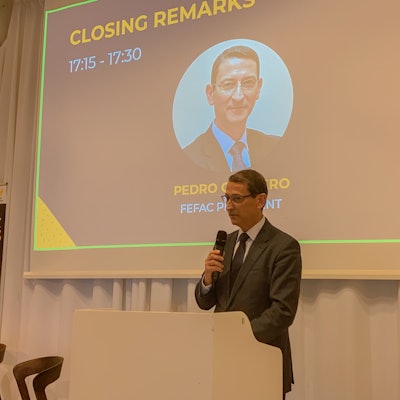 Fish feed challenges
The FEFAC congress featured three workshops dedicated to analyzing the challenges across different farm animal species. For the first time, a dedicated aquafeed session was held, addressing the growth and importance of this sector regarding sustainability and circularity.
A great example of circularity in the aquafeed sector is the production and use of marine feed ingredients, derived from the leftovers from fish processing such as scraps, skins and trimmings. These marine ingredients are favored over fish meal and fish oil made from wild catch, as they are circular and have a lower carbon impact. Natural marine resources from lower trophic levels, such as krill and zooplankton, and insect protein and insect oil are also more sustainable alternatives for fish diets and are gaining interest.
Ole Christensen, FEFAC fish feed committee chair and vice president, EMEA, at BioMar, said in the aquafeed session that great steps have been made in aquaculture, yet there is room to further improve a lot on efficiency through optimization of feed efficiency, survival rate and fish health.
"Reducing the GHG emissions of aquaculture requires efforts on different levels," he said.
More action needed
Three weeks after the FEFAC congress, European Commission announced a set of measures to stimulate the sustainable use of key natural resources, including its goal to reduce its food waste of 59 million tons per year by 10% in processing and manufacturing by 2030.
In total, the commission aims to reduce food waste at retail and consumption (restaurants, foodservice and households) level by 30% by 2030. In a response, the European Former Foodstuff Processor's Association (EFFPA) said these goals underline the key role that the EU animal feed sector has. At the same time, we must keep feed and food safety in mind as well as nutritional quality, feed efficiency animal health. The re-introduction of processed animal proteins (PAPs) in EU monogastric diets in 2021 has been a small game changer in nutrient valorization and circularity.
The experts at the FEFAC event addressed that one of the next big steps could be to allow a wider range of substrates — including catering waste and other non-edible vegetable biomass such as sludge including from fish farming — to feed one of the biggest growing sectors in animal feed: insects.