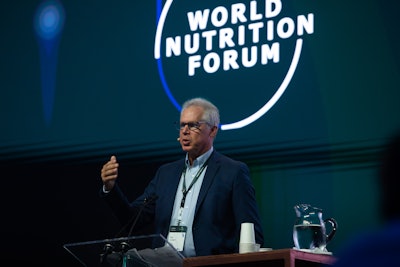 Courtesy DSM-Firmenich
Corporate social responsibility (CSR) is good for your company and the "battle to do good is a battle is well worth fighting for," according to Bob Langert, former vice president of sustainability at McDonald's, who spoke at the 2023 DSM World Nutrition Forum (WNF).
The evolution of corporate sustainability is "probably the biggest change in business practices over 35 years," he said.
However, there is a divide between retailers, consumers, farmers and producers.
"I think farmers think that McDonald's is kind of crazy and a little bit over the top in their decision-making," he said. "But I think, on the other hand, you've got retailers looking at farmers and producers saying, 'Well, hey, they don't know what our pressures are like either, and the farmer's out of touch with what the consumer wants."
Even with these obstacles, Langert said sustainability has a broad business case, and companies should be taking more steps toward sustainability, "even if they're breakeven because you have all these other attributes that are good" regardless of the financial return on investment.
"If we can improve our brand health score by 1%, we can improve our sales by 2%," he said, adding that many attributes that contribute to brand health are related to corporate sustainability, including how employees are treated, supply chain issues, ethics, animal welfare and environmental protection.
What does the CSR future mean for your business?
Langert said companies that adopt a CSR program can expect four things: transparency overload, a commitment reckoning, expectations will keep doubling, and food issues will become more sustainable than ever.
Transparency overload: "The one thing that everybody's looking for is companies to be transparent, to be open, be honest … to admit failures and listen. And so many companies do not have that culture. So, if you can help create that culture in your company, I encourage you to do that."
Commitment reckoning: "You have all these companies setting goals, but you need to figure out a way to help these companies. You probably have products, you probably have data. Can you partner with NGOs (non-governmental organizations) to get your customers to do more, to help them?"
Expectations keep doubling: "The consumer, maybe they'll start paying for (sustainability) more but certainly the retailers are not going to let up. So, you need to find more innovative ways to reach the consumer."
Food issues more sustainable than ever: "Food issues, compared to every other issue in the world, is even tougher for you because science is really cool, isn't it, for cars and computers and other things, but when it comes to food, the consumer's wary of science, they're wary of all the ingredients. … So many good things that the retailer does not understand, the consumer doesn't understand, how can you make it more understandable to expand your products? Because, believe me, you're going to get some resistance. Our research shows that consumers want real, natural, authentic food. So … how can you work within that parameter?"
World Nutrition Forum was held May 8-10 in Cancun, Mexico.