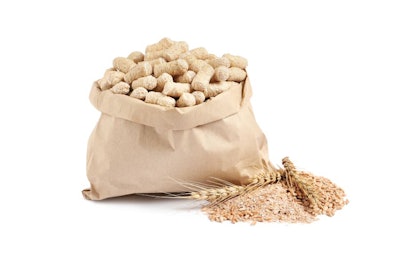 This high-protein ingredient has some setbacks, but its popularity for use in animal feeds and human foods continues to grow.
While wheat gluten faces some challenges, it is a popular alternative protein for animal feeds and human foods, and its value is expected to continue to grow.
Wheat gluten is the water-insoluble protein extracted from wheat flour. According to the International Wheat Gluten Association, the standard composition of vital wheat gluten is 80% crude protein on a dry matter basis, with maximums of 10% moisture, 2% ash, 2% fat and 1.5% crude fiber.
According to Beneo, a Mannheim, Germany-based producer of plant-based functional food, feed and pharmaceutical ingredients, wheat gluten protein makes up 7% to 15% of the total wheat kernel. Gluten protein surrounds the starch granules and is uniformly distributed, as a matrix, within the floury endosperm of the wheat kernel. To produce wheat gluten, water is mixed with wheat flour in equal proportions. More water is then added with additional mixing to form a curd-like substance. This substance is then passed over screens to free starch from the gluten lumps and then starch is separated. The gluten part is then dried under controlled conditions to ensure vital characteristics are maintained.
Wheat protein is available in two forms for the animal nutrition market: vital wheat gluten (VWG), which is used for animals fed with solid foods, and hydrolyzed wheat protein (HWP), for animals fed liquid foods, according to Christian Delporte, technical support manager for animal nutrition at Roquette, a producer of plant-based ingredients and provider of pharmaceutical excipients headquartered in Lestrem, France.
Animal feed applications for wheat gluten
VWG is a good alternative to fish meal, animal meals, blood plasma and soy protein concentrates in feed for young fish, piglets, shrimp or pets, Delporte said, while HWP is a good alternative for dairy protein and whey protein in calf milk replacers.
"VWG serves a dual purpose as a highly digestible and functional protein source," he added.
The standardized ileal crude digestibility of VWG is 90%, according to Karel Thurman, commercial director, animal nutrition, for Beneo Animal Nutrition.
"This ingredient can be a replacement for all highly digestible and concentrated protein sources used. I am thinking of plasma protein or fishmeal. However also vegetal protein sources like potato protein can be replaced with vital wheat gluten," Thurman said.
Processing handling qualities
VWG provides a binding effect for pelleted and extruded feeds, while HWP has good solubility in water.
Because VWG is a fine powder, it requires equipment that effectively controls dust and is not always easy to handle in a typical feed mill. However, pelleting can be an option to allow for bulk deliveries and ease of transport.
"The visco-elastic properties of gluten are an interesting feature of this ingredient. The elastic matrix which is formed when mixed with water creates interesting characteristics for water holding capacity, pellet binding," Thurman said. "These virtues are especially of interest in the aquafeed industry but also in pet food. For the creation of certain product forms like semi-moist snacks or in baked goods, gluten is of very high interest."
In order to keep the technological characteristics of the gluten, it is dried at low temperatures in a ring dryer.
"This ensures that the protein is not damaged by too intense heating or becomes unavailable due to Maillard reactions," Thurman said.
Advantages and challenges
Wheat gluten boasts many advantages, but also comes with several challenges, Thurman and Delporte said.
Benefits include its highly digestible protein, the absence of anti-nutritional factors, low ash and fiber content, light color, neutral taste and non-genetically modified origin, Delporte said.
Wheat gluten is also a source of glutamine, a non-essential amino acid which the body demands more of during periods of stress.
"In young animal nutrition, I see the biggest advantage next to the high digestibility and high concentration of the product in the glutamine content (29% as fed)," Thurman said. "On top of that, it is a source of energy for the gut cell walls. This makes it extremely relevant for young animals which are suffering with intestinal disturbances around the weaning period."
An additional benefit of this ingredient, Thurman added, is that it is a locally produced and abundant protein source, which is a co-product of bioethanol or starch production.
Despite all of its nutritional advantages, VWG is deficient in the amino acid lysine. As a result, it must be supplemented with synthetic lysine or combined with a protein source that is rich in lysine, such as pea protein, Delporte said.
In milk replacer formulas, the low solubility of gluten is a challenge as well, Thurman said.
"This is the reason why feed producers often choose hydrolyzed gluten which has a better solution. Nevertheless, due to the cost advantage of vital wheat gluten vs. hydrolyzed, it is still of interest to include a certain inclusion in the formula. In practice, up to 4-5% are being used without impact on the solubility of the milk replacer," he said.
Popularity in human diets
In human foods, wheat gluten is most commonly used in bakery products and snacks to add texture to products such as bread, cakes, biscuits and pastries. It helps improve the dough's strength, softness, elasticity, extensibility and increased shelf life.
"Especially when the protein levels in the milling wheat are low, the industry needs to correct the protein level to assure that the bread quality remains to the normal standard," and gluten acts to adjust the protein levels.
The rise in demand for meat alternatives has created a new market for this ingredient.
"Wheat gluten has also become an essential ingredient in meat analogues products, where it contributes to the protein content and serves as a binder for texture, especially when elasticity and flexibility are required. Therefore, it is an indispensable ingredient in plant-based cold cuts," Delporte said.
Wheat protein is also used in sport nutrition supplements, alongside or as an alternative to whey protein.
Market outlook
According to recent data from Global Market Insights Inc., the global wheat gluten market is expected to be worth US$1 billion by 2032, with growth due to rising demand in human food and animal feed applications.
Thurman estimates that slightly more than 59% of worldwide gluten production is being used in human nutrition. However, the market faces some obstacles as more people are diagnosed with gluten intolerance or celiac disease, an autoimmune disorder triggered by gluten ingestion, and label requirements related to its allergenicity.
"Also, in pet food, we see that some of that gluten-free trend is spoiling over to the market. This puts some limits on the use of this ingredient. Nevertheless, the technological and nutritional advantages of vital wheat gluten are so important that it is being used by the industry despite this negative perception some consumers have," Thurman said.
However, he added, the price for wheat gluten may not be rising in alignment with its nutritional value.
"As gluten offers the food and feed industry not only nutritional but also technological benefits, it is clear that the price development can be completely different compared to other protein sources. On top of that, the overall output of gluten depends on the protein level in the wheat which can be highly variable according to the crop. These elements result in the fact that gluten prices are evolving beyond their nutritional value and can make it a relatively expensive ingredient," Thurman said.