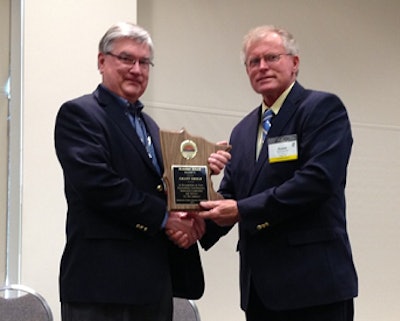 The Minnesota Turkey Growers Association presented its prestigious Ranelius Award to longtime Land 'O Lakes (now Purina Feeds) employee Grant Shold, Sauk Rapids, Minn., at its annual meeting on March 13 in Saint Paul, Minn.
"The Ranelius Award is the most prestigious honor given by the Minnesota Turkey Growers Association," said Duane Jaenicke, 2012-13 association president. "It signifies leadership and dedication to the industry based on contributions made to enhance Minnesota's turkey industry, and Grant Shold is well deserved of this special honor."
Shold grew up on a farm near Albert City, Iowa, where his family raised cattle, hogs and turkeys. He graduated from Iowa State University with a degree in poultry science, and afterwards, served four years in the Air Force. Following that, he went to work for Land O' Lakes as a poultry production specialist, which had responsibility for selling poults, feed and buying turkeys for Land O'Lakes' four processing plants.
His 38 years of work with Land O' Lakes took him to Willmar, Albert Lea and finally Sauk Rapids, Minn., where he worked different positions – all with the focus on turkeys. Since the mid-1990s, he has worked in sales for the Land O'Lakes Purina Feed division and he covers turkey and gamebird feed sales in central and northern Minnesota, North Dakota, southeast Iowa and Central Wisconsin. Shold is planning his retirement this fall.
"Grant knows turkeys and has been a dedicated friend to the turkey industry in the upper Midwest for several decades," said Jaenicke. "We will miss him and wish him well in his upcoming retirement, and we thank him for the many years of service he has given us."
Shold served on the Minnesota Turkey Growers Association Board of Directors for six years (2007-2013) and has also received the Minnesota Turkey Growers Association Allied Lifetime Achievement Award in 2005.
Shold and his wife, Donna, have been married 32 years. They have three children and two granddaughters, all of whom live close by.
The Ranelius Award is named for Sven Ranelius, a founding father of the Minnesota Turkey Growers Association, often described as a quiet, unselfish person who was very dedicated to the turkey industry in Minnesota. Nominees are evaluated on two central criteria: their contribution to the industry over a period of time; and the quality of that contribution.