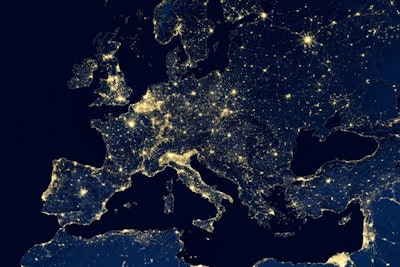 Uncertainty, high energy costs challenge EU livestock, feed producers
The fallout of the Russian invasion of Ukraine continues to wreak havoc on the European livestock sector, hampering feed sales across the board and making feed production less profitable.
The EU will see a 5-million-ton drop in compound feed demand in 2022, owing to the spread of animal diseases and the economic impact of the war in Ukraine, the European Feed Manufacturers' Federation (FEFAC) said in a statement.
Large producer countries forecast a production decrease between 8.8% and 1.5% year-on-year, reflecting supply chain disruptions and the spread of animal diseases in 2022. Only feed manufacturers in the Baltics, Ireland, Poland, Bulgaria and Slovenia are expected to keep feed production at a similar level to the previous year. At the EU level, all of the major feed sectors will face a reduction, FEFAC said.
An upward price rally in the natural gas and electricity market was one of the most painful consequences of the Russian invasion of Ukraine for European livestock and feed producers. In almost all EU countries, farmers complained about expanding heating and electricity bills, as the natural gas prices at peak skyrocketed nearly tenfold in 2022 compared with the previous year.
Even the countries where FEFAC expects feed production dynamics not to be negative this year have experienced challenges. For example, Egidijus Simonis, head of the Lithuanian dairy union Pieno centras, recently called on the government to allocate urgent state aid for the industry. He estimated that dairy companies in Lithuania annually consume around 160,000 megawatt hours (160 million kilowatt hours) of electricity, paying EUR13 million (US$13.7 million) in 2021. This year, however, this figure is set to nearly quadruple, reaching EUR50 million.
Janis Šolks, the chairman of the Union of Latvian Dairy Workers, also warned that at least two major dairy producers in the country curtailed operations, and more companies could follow the lead unless the authorities interfere and throw a helping hand to the industry.
The rising costs, among other things, force farmers to downsize their operations. FEFAC estimated that the European pig feed sector would see a 5.6% drop in production this year compared with 2021. The EU poultry feed sector will see a fall in output by 3.4% in 2022 compared with the previous year.
Farmers, following increased production costs, including feed, energy, and packaging, for eggs and poultry meat, are postponing new production cycles and flock rotations. Besides, due to inflation pressures on disposable incomes, farmers have difficulty selling high-value products like organic and free-range products, FEFAC said.
Depth of the dependence
Russia used to account for 40% of European natural gas imports. The dependence on Russian gas varies across Europe. In 2021, Bosnia and Herzegovina, Moldova and North Macedonia got 100% of their natural gas supplies from Russia, Eurostat estimated. Almost all countries in Eastern Europe used to rely heavily on Russian imports. In 2021, Latvia sourced 92% of natural gas in Russia; Serbia, 89%; Bulgaria, 79%; Slovakia, 68%; Hungary, 61%; Slovenia, 60%; and Poland, 50%.
The difference is striking compared with Western Europe. Germany has the highest dependence on Russian natural gas imports in this part of the region at around 50%, followed by Italy at 38%, France at 15% and Belgium at 14%, Eurostat reported.
Anton van den Brink, deputy secretary general of FEFAC, confirms that the depth of reliance on the Russian natural gas supplies in the EU really matters in 2022.
"As regards industrial feed-producing countries, we know that Spain and Portugal have little to no reliance on Russian gas supplies and therefore are in a slightly more relaxed position than operators in other European countries," he said, adding that feed producers are trying to get a guarantee from the governments to have access to emergency gas reserves if the situation with the natural gas availability worsens further.
"FEFAC members seek to secure the essential status of their operations to avoid a legal shutdown of operations in case of priority setting for gas supplies in case of extreme shortages in their respective countries. As far as we understand, this has only been achieved in two member states so far," he said.
Counting costs
FEFAC members estimate the extra cost for energy, comprised of gas and electricity, in a range of EUR25 to EUR35 per ton for standard compound feed and up to EUR60 per ton for specialty feeds such as aquafeed.
"These costs cannot be passed on to the marketplace in the context of record-high raw materials which have not yet been transmitted through the value chain, thus severely constraining the buffering capacity of the feed industry in cushioning highly volatile markets," van den Brink said.
Another part of the problem is that feed and energy industries compete for raw materials. The measures embarked on by the European countries to overcome the energy crunch spurs biofuel production.
Many suppliers of traditional co-products used for feed purposes – for example, sugar beet pulp, dried distillers grains with solubles and corn gluten feed have already stopped drying operations, beginning to divert these products as wet products to the biomethane sector, which benefits from the EU solidarity tax exemption of the energy emergency package, van den Brink said, warning that this trend will further reduce the availability of homegrown and low-carbon suppliers of feed materials, exacerbating pressure on feed material markets suffering from a lower-than-average EU harvest, in particular for corn.
"Some suppliers even announced potential economic shutdowns of operations, for example, in the crushing sector, which further increases the EU's dependency on imports," he added.
Alternative options
In the face of the worst energy crisis in modern history, European livestock producers and feed companies seek to transfer to alternative solutions. For example, Darius Gudaciauskas, director of Lithuanian poultry companies Vilnius Poultry and Kaisiadorių Poultry, said his company considered switching heating systems to liquefied natural gas and building biofuel plants.
Some poultry farmers in Eastern Europe are known to install solar panels on the rooftops to slightly mitigate the rising energy costs. On the other hand, these solutions have yet to become mainstream. The main problem is they require one-time substantial investments, which not all companies can afford, while the payback period of such a venture is stretched to several years. Some cost-saving solutions are also utilized in the feed industry.
"The compound feed manufacturers are seeking to reduce energy consumption by shifting from pelleting to mash feed or crumbled feed production. This could potentially give rise to feed safety challenges, like microbial contamination," van den Brink said.
The energy crisis appears even more painful for the European feed industry because it is accompanied by a mix of other problems.
In addition to rising utility costs, FEFAC lists economic uncertainty, increasing costs linked to environmental and animal welfare policy measures and the expected persistence of animal diseases among the main challenges the European feed industry will have to face in 2023. In addition, there is still a strong uncertainty over the continuation of the Black Sea grain corridor initiative and the pace of expansion of EU solidarity lanes to keep Ukrainian grain exports operational.