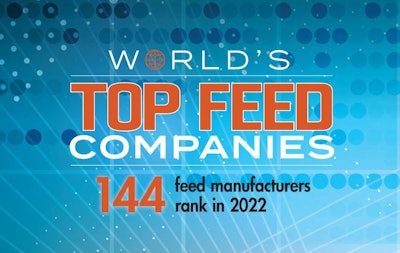 Annual report highlights global compound animal feed manufacturers producing volumes more than 1 million metric tons in 2021.
In 2021, 144 animal feed manufacturers worldwide reached or exceeded 1 million metric tons (mmt) of compound feed production, according to WATT Global Media's Top Feed Companies database. Together, these companies manufactured 523,040 mmt of compound feed last year, or 42% of total 2021 global production, which hit 1.235 billion metric tons based on Alltech's 2022 Global Feed Survey estimate.
From a regional perspective, many of the firms featured in this year's listing are headquartered in Asia (55) and in Europe (32). Thirty are in North America; 12 in South America; nine in the Middle East; three from Africa; two in Australia and one in Central America.
WATT Global Media's research team compiles exclusive feed industry insights, including the production volumes and other data points, to populate its Top Feed Companies database and then uses it generate Feed Strategy's annual listing.
To capture the most accurate information, the data and analysis found in the Top Feed Companies report focuses on the previous calendar year's compound feed volumes.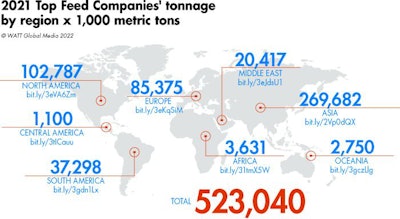 The 144 Top Feed Companies produced a total of nearly 523,040 million metric tons of production, or 42% of 2021's total global tonnage. (Copyright WATT Global Media 2022)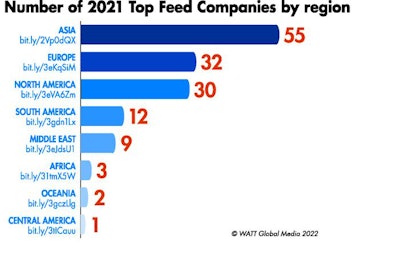 Most of the compound feed manufacturers reaching or exceeding volumes of 1 million metric tons are in Asia, Europe and North America. (Copyright WATT Global Media 2022)
2021 ranking highlights
The Top Feed Companies of 2021 report features 144 animal feed-producing companies compared with the 140 that ranked in 2020's recap. The most notable changes to this year's report can be attributed to the addition of new or updated data; however, others are influenced by market conditions, acquisitions or circumstances unique to the company.
Continued guidance from our feed industry consultant, who specializes in the Asian feed industry, shaped some of the most notable changes found in the 2022 edition. Due to the discovery of new information, one company that appeared in last year's Top Feed Companies report was removed from the listing and five new companies were added.
Keeping that in mind, the highlights of 2022 Top Feed Companies ranking:
Top 10 shake-up
The most notable ranking shifts can be found in the Top 10 feed-producing companies. While Thailand's CP Group continues to hold the No. 1 position and New Hope Group remains at No. 2, China's Haid Group assumed the No. 3 slot, jumping up from the No. 6 ranking in 2020.
U.S. feed leaders Cargill (No. 4) and Land O' Lakes (No. 5) stay at the top, while Muyuan Foodstuff joined the Top 10, ascending from the No. 30 position last year to No. 6 in 2022's report. Shuangbaotai Group (Twins Group) moved from No. 12 last year to take No. 7, tying with JBS S.A. by producing 11 mmt each in 2021.
Brazil's BRF came in at No. 9, despite seeing a sizable decrease in its production volume (down 400,000 mmt) in 2021. The Netherlands' ForFarmers, U.S.-based Tyson Foods and Wen's Food Group, which dropped from last year's No. 5 position, share the No. 10 slot, as each company produced 10 mmt of feed in 2021.
Greatest volume gains
Much of the movement took place among Asian companies. Grouping the Chinese feed producers who saw changes due to new data, Wellhope Agri-Tech rose to No. 15 from No. 52 in 2020. Sichuan Tequ Group jumped to No. 24 from its No. 63 in 2020. Pig and poultry feed producer Shandong Backbone Group took No. 31, up from No. 61 last year, based on its 2021 production. Tieqilisi Group jumped to No. 45 from No. 72. Fujian Aonong Group ascended to No. 54 from No. 90. Fujian Sunner Development Co. Ltd. hit No. 54 from No. 65. Xinjiang Tiankang moved to No. 67 from No. 110.
Japan's Feed One moved to No. 38 from No. 45, and South Korea's Harim Group added volume to move from the No. 23 slot to fill No. 20.
Meanwhile in South America, Brazil's Lar Cooperativa grew to take No. 110 versus its No. 122 position last year by increasing its production by around 200,000 mmt.
Largest tonnage decreases
Ukraine's MHP's feed production decreased in 2021, moving the company from No. 60 down to No. 85. No doubt its volumes will further decline due Russia's invasion of the country.
Royal Agrifirm Group's production dropped, moving the Dutch agrifood giant from No. 19 in 2020 down to No. 26. Japan's Marubeni Nisshin Feed Co. dropped from its No. 40 position down to No. 65. Danish aquafeed producer BioMar Group slid from No. 108 to No. 120. China's Guangdong Evergreen Feed Co. Ltd. downgraded from No. 106 to No. 125.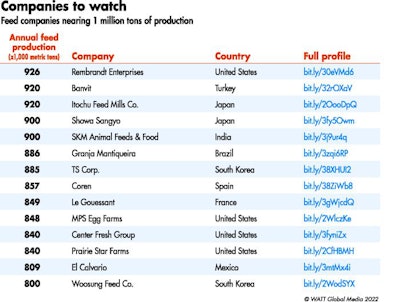 With volumes of more than 800,000 metric tons of production, 14 companies almost ranked on 2021's Top Feed Companies master list. (Copyright WATT Global Media 2022)
Understanding the 2022 Top Feed Companies ranking
If you notice some major players seem to be missing from the full ranking report, please note that WATT Global Media's research team has standardized the way parent companies and their subsidiaries are displayed in the Top Feed Companies database and combine tonnage under the parent company's listing, e.g. Smithfield Foods is owned by WH Group and its tonnage is accounted for in its total.
To examine the holdings of the parent companies in this year's report, visit Feed Strategy's Top Feed Companies database (see sidebar) to search historical data, milestones and additional company information.
Editor's note: The World's Top Feed Companies report was drawn from WATT Global Media's Top Feed Companies database, compiled from research and a survey overseen by Bruce Plantz and Denise O'Keefe. Feed consultant Yu Yu also contributed to the project. Please direct comments or questions to [email protected].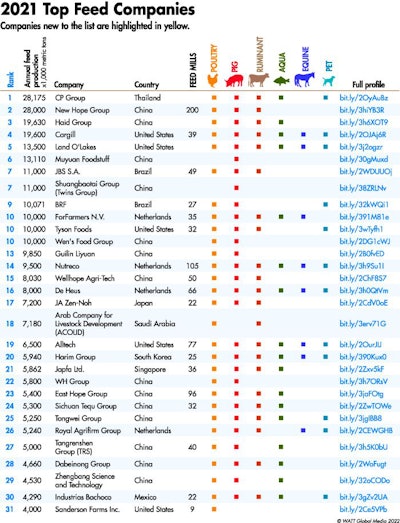 Feed Strategy's Top Feed Companies report features 144 compound feed manufacturers who produced more than 1 million metric tons in the 2021 calendar year. See the full table. (Copyright WATT Global Media 2022)
---
Looking for additional Top Feed Companies information?
To drill down deeper into the factors that shaped this listing, historical data and the company profiles of nearly 200 feed producers worldwide, visit the Feed Strategy's full Top Feed Companies database: www.feedstrategy.com/worlds-leading-feed-producers/.